M-DCPS + Center for Leadership at FIU = SUCCESS: Featuring Nery Fins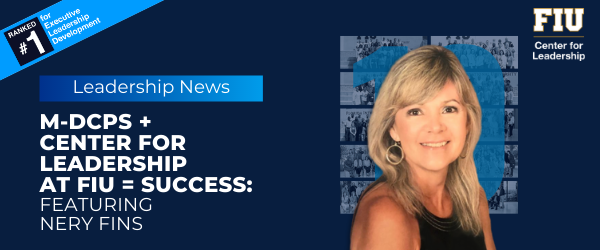 This year the Center for Leadership and Miami-Dade County Public Schools (M-DCPS) are celebrating their 10-year partnership in offering the award-winning Principals Leadership Development Program. This program is designed to empower M-DCPS principals to become more effective leaders and change agents in their respective schools and in the South Florida community. The partnership is made possible through a generous endowment from the John S. and James L. Knight Foundation.
As part of this 10-year celebration, the Center for Leadership will be featuring one principal from each of the ten cohorts over the coming academic year. Nery Fins, principal at Felix Varela Senior High School and Cohort IV alumna of the Principal Leadership Development Program (2013-2014), was our fourth interviewee to share her thoughts on leadership, the program, and her experience as a principal.
Q: What is leadership?
NF: Leadership to me has many facets. Instructional leader, visionary, advocate, fiscal manager, to name just a few, but above all else, leadership is leading a school community with the ultimate goal of creating happy, educated citizens who will succeed in whatever endeavor they set for themselves. As a principal, that is my belief.
Q: Reflecting on your experience as part of the Principals Leadership Development Program at the Center for Leadership, what one lesson from that program would you share with other leaders?
NF: The one lesson that I still remember is the idea that we should build upon our strengths and not worry about our weaknesses. That has resonated so much with me and still to this day, I purchase for all my administrative team the StrengthFinder book. They all take the test and then we discuss our strengths. Sometimes, in life, we spend so much time worrying about our weaknesses that we forget how important and wonderful our strengths are.
Q: How has this been beneficial to you in your own leadership?
NF: This book and the lessons that were taught to me while at the Principals Leadership Development Program have served as a foundation for many of my personnel choices and in my daily discussions with my students, faculty and parent community. It is a lesson that stresses the positive in such a way that it empowers us all.
Q: Briefly describe a memory/moment that had a significant effect on you during your tenure as principal and any lessons you learned that would be helpful to share with others.
NF: There are many moments in my tenure as a principal that are significant, but if I had to select only one it would have to be graduation. It is my favorite event of all the events of a high school because it is the culminating moment where all the hard work, stress, emotions of four years disappear into a beautiful moment of pride, honor and success. As a high school principal, that day is special to me and when I see the class enter the venue, hear the processional played by the school band, my eyes always tear up because at that moment "my kids" are graduating and though I am so proud of each of them, I also am a little sad that they will go off into the adult world. As they walk across the stage and shake my hand, I see the little freshman who stressed over his Algebra class, the sophomore who wanted so badly to star in the school play, the junior who proudly asked me to turn his/her ring, and finally now the senior who is graduating.
Want to learn more?
Read the other principal interviews at: