M-DCPS + Center for Leadership at FIU = SUCCESS: Featuring Kenneth Williams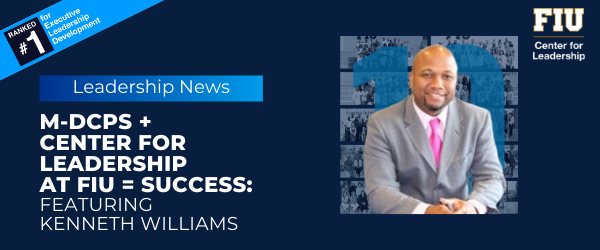 This year the Center for Leadership and Miami-Dade County Public Schools (M-DCPS) are celebrating their 10-year partnership in offering the award-winning Principals Leadership Development Program. This program is designed to empower M-DCPS principals to become more effective leaders and change agents in their respective schools and in the South Florida community. The partnership is made possible through a generous endowment from the John S. and James L. Knight Foundation.
As part of this 10-year celebration, the Center for Leadership will be featuring one principal from each of the ten cohorts over the coming academic year. Kenneth Williams, principal at Robert Morgan Educational Center and Cohort Vll alumnus of the Principal Leadership Development Program (2016-2017), was our seventh interviewee to share his thoughts on leadership, the program, and his experience as a principal.
Q: What is leadership?
KW: An effective leader is one who is well versed in their strengths and their weaknesses. Keeping that in mind, a true leader assembles a group of people, diverse in strengths. Together, they're able to achieve a common goal. Leadership involves listening, understanding, focusing, redirecting and motivating.
Q: Reflecting on your experience as part of the Principals Leadership Development Program at the Center for Leadership, what one lesson from that program would you share with other leaders?
KW: One lesson I would share with other leaders is the lesson on teamwork. Having the ability to work together to reach a common goal was one of the most valuable lessons in the program. Part of that lesson included the realization that true leadership involves knowing when you should allow others to take the wheel.
Q: How has this been beneficial to you in your own leadership?
KW: This has been beneficial to me in my own leadership experience. Leading a team into success is a valuable goal. I have had the pleasure of leading more than one school into educational success, improving the school grade with each successive year. A team that feels respected and valued by their leader will work to make almost any goal come to fruition.
Q: Briefly describe a memory/moment that had a significant effect on you during your tenure as principal and any lessons you learned that would be helpful to share with others.
KW: The most valuable moments I have had as a principal involve my students. From the infants in Head Start to the Seniors, they all have one thing in common; they are each someone's child.  I am not just a principal, I am a father too. Each decision I make is for their benefit. I treat them the way I expect others to treat my children. I do it for them.
Want to learn more?
Read the other principal interviews at: