M-DCPS + Center for Leadership at FIU = SUCCESS: Featuring Humberto J. Miret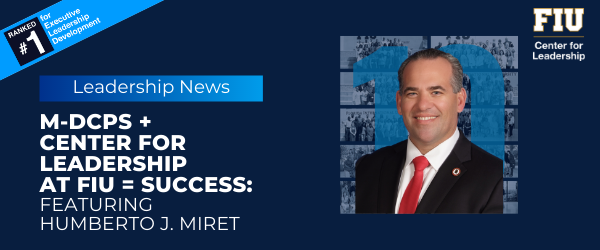 This year the Center for Leadership and Miami-Dade County Public Schools (M-DCPS) are celebrating their 10-year partnership in offering the award-winning Principals Leadership Development Program. This program is designed to empower M-DCPS principals to become more effective leaders and change agents in their respective schools and in the South Florida community. The partnership is made possible through a generous endowment from the John S. and James L. Knight Foundation.
As part of this 10-year celebration, the Center for Leadership will be featuring one principal from each of the ten cohorts over the coming academic year. Humberto J. Miret, principal at Miami Southridge Senior Highschool and Cohort Vlll alumnus of the Principal Leadership Development Program (2017-2018), was our eighth interviewee to share his thoughts on leadership, the program, and his experience as a principal.
Q: What is leadership?
HJM: Leadership involves setting clear goals in order to guide, mentor, and empower all stakeholders to attain a common goal and realize the school's vision.
Q: Reflecting on your experience as part of the Principals Leadership Development Program at the Center for Leadership, what one lesson from that program would you share with other leaders?
HJM: One important lesson I learned by attending the program was to collaborate with other principals in order to share common goals. Being a part of a community of highly effective principals has allowed me to grow as an administrator and to build important relationships.
Q: How has this been beneficial to you in your own leadership?
HJM: Through this process, I have been able to continue to have important conversations with other principals by creating a collaborative environment to share problems, new ideas, and successes.
Q: Briefly describe a memory/moment that had a significant effect on you during your tenure as principal and any lessons you learned that would be helpful to share with others.
HJM: Assisting staff members to reach their educational leadership journeys by guiding and mentoring seven of my teachers to become administrators and three vice-principals to become principals. These have been very rewarding experiences during my tenure as principal.
Want to learn more?
Read the other principal interviews at: