M-DCPS + Center for Leadership at FIU = SUCCESS: Featuring Lena Orth-Sanchez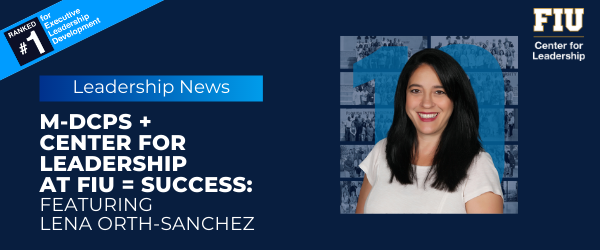 This year the Center for Leadership and Miami-Dade County Public Schools (M-DCPS) are celebrating their 10-year partnership in offering the award-winning Principals Leadership Development Program. This program is designed to empower M-DCPS principals to become more effective leaders and change agents in their respective schools and in the South Florida community. The partnership is made possible through a generous endowment from the John S. and James L. Knight Foundation.
As part of this 10-year celebration, the Center for Leadership will be featuring one principal from each of the ten cohorts over the coming academic year. Marie "Lena" Orth-Sanchez, principal at Dr. Carlos J. Finlay Elementary School and Cohort IX alumna of the Principal Leadership Development Program (2018-2019), was our ninth interviewee to share her thoughts on leadership, the program, and her experience as a principal.
Q: What is leadership?
MOS: Leadership is about motivating, inspiring and empowering others towards a common goal; it is also about taking care of those in your charge so that they may reach their full potential as individuals.    
Q: Reflecting on your experience as part of the Principals Leadership Development Program at the Center for Leadership, what one lesson from that program would you share with other leaders?
MOS: One of the lessons from the program that resonated with me was the lesson on strengths by Dr. Mayra Beers. We are naturally our own worst critiques, and, according to Dr. Beers' lesson, seventy percent of our thoughts daily are negative. Even though self-reflection and learning from one's mistakes is beneficial to personal growth, her lesson made me realize that there is also value in focusing on our strengths and talents. Herein lies our greatest opportunity for growth.
Q: How has this been beneficial to you in your own leadership?
MOS: Shifting my mindset to focus on my strengths not only energizes me but also energizes those around me.  It has enabled me to reach my yearly goals and, in certain instances, surpass them.  More importantly, I learned the benefits of focusing on the strengths of others to build capacity and to work toward our common vision.
Q: Briefly describe a memory/moment that had a significant effect on you during your tenure as principal and any lessons you learned that would be helpful to share with others.
MOS: There have been many moments and memories that will stay with me for a lifetime, but the moment I am most proud of is happening right now.  We are in unprecedented times, but the vision that we were able to create together has transcended the walls of our school.  One of the lessons from the program was that a successful vision will continue even when you are not there, and I am proud to see that the high expectations and culture that we have built continues in our teachers' virtual classrooms.
A lesson that I have learned is the importance of building relationships.  The connections that I have been able to foster with colleagues, teachers, staff members, families, and the community is what defines me as a principal.  I would share with others the importance of investing their time and efforts into building positive relationships. 
Want to learn more?
Read the other principal interviews at: