The Emerging Leader Award: Honoring Matthew Anderson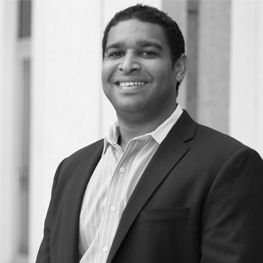 Date and Time
October 11, 2017 at 2:00 pm to 3:00 pm
Lecture Topic
Connecting the Dots:
A Journey of Meaningful Relationships, Experiences, and Community Engagement
Address
Florida International University
College of Business Special Events Center
11200 SW 8th Street
Miami, FL 33199 
About Matthew Anderson
As a Senior Associate at Foundry Commercial, Matthew Anderson leads the South Florida Tenant Advisory Services platform and is responsible for building brand awareness in South Florida and developing business opportunities for all of Foundry Commercial's service lines. Prior to joining Foundry Commercial, Matt was senior associate at Akko Group and started his career at the third largest commercial real estate firm in the world, Colliers International. Matt attended college at the University of Massachusetts at Amherst where he received his bachelor's degree in marketing and international relations.
Matthew is also active in the South Florida community and has held leadership roles in numerous charitable and business organizations. A short list of Matt's accomplishments include graduating from Leadership Florida/Connect Florida Class VII, co-chairing and leading the United Way Young Leaders to raise over $200,000 in a fiscal year, spearheading the Barton G. Kids Hear Now Foundation's Run Over Hear 5k, co-founding and serving as past chair of the Beacon Council's New Leaders Taskforce, and serving as a founding board member of the Ayiti Community Trust.
About The Emerging Leader Award
In 2013 the Center for Leadership instituted The Emerging Leader Award to recognize a new generation of leaders who are providing innovative solutions to social and business challenges, and improving the quality of life in our community. This award is provided in partnership with the Alvah H. and Wyline P. Chapman Foundation.
The Emerging Leader Award was developed to recognize a new generation of leaders. This recognition symbolizes the aspiration to transcendent leadership to be pursued by each new generation, to build a better world – by engaging with society to create solutions in tangible and practical ways. The recipient is recognized at a special educational event where he or she presents a lecture and receives $1,000 to further their work in the community.
We welcome all nominations from the public for emerging leaders under the age of 40. Nominations are considered by a five-member committee comprised of The Center's Directors (2), a member of the Chapman family, and two members of The Center's advisory board. If you would like to be notified when the call for nominations for the 2018 award is announced, please email lead@fiu.edu.