Faculty Series Lecture: Fred Walumbwa, Ph.D.
The Faculty Series was created to provide intimate venues that encourage faculty/student interaction. The Series invites accomplished faculty from other universities to share their research with an audience of FIU graduate students and faculty.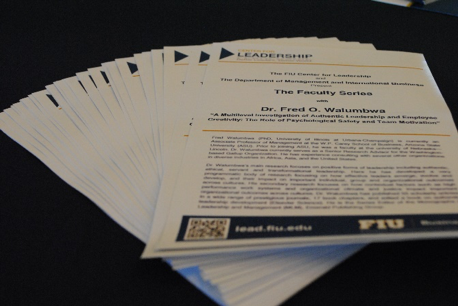 Lecture
About the lecture

"A Multilevel Investigation of Authentic Leadership and Employee Creativity: The Role of Psychological Safety and Team Motivation"

In this study, Dr. Walumbwa develops and tests a model that depicts how authentic leaders influence individual processes and team processes that interact to positively affect employees' creativity. Based on multisource data from 238 employees and 52 leaders, he found that authentic leadership is positively related to employee perceived psychological safety and team motivation, and that team motivation strengthened the association between psychological safety and employee creativity. Dr. Walumbwa also found that team motivation moderates the indirect effect of authentic leadership on creativity through psychological safety, such that the indirect effect is more positive when team motivation is high than when it is low. These findings highlight the individual-and team-level mechanisms through which authentic leadership enhances employee creativity.

Date
Presenter
Fred Walumbwa, Ph.D.

Fred Walumbwa, Ph.D.
Associate Professor of Management at the W.P. Carey School of Business, Arizona State University

Fred Walumbwa (PhD, University of Illinois at Urbana-Champaign) is currently an Associate Professor of Management at the W.P. Carey School of Business, Arizona State University (ASU). Prior to joining ASU, he was a faculty at the University of Nebraska -Lincoln. Dr. Walumbwa currently serves as a Senior Research Advisor for the Washington-based Gallup Organization. He has experience consulting with several other organizations in diverse industries in Africa, Asia, and the United States.

Dr. Walumbwa's main research focuses on positive forms of leadership including authentic, ethical, servant and transformational leadership. Here he has developed a very programmatic body of research focusing on how effective leaders emerge, evolve and develop, and their impact on important individual, group and organizational outcomes across cultures. His secondary research focuses on how contextual factors such as high-performance work systems and organizational climate and justice impact important organizational outcomes across cultures. Dr. Walumbwa has published 55 scholarly articles in a wide range of prestigious journals, 17 book chapters, and edited a book on authentic leadership development (Elsevier Science). He is the Series Editor of the Monographs in Leadership and Management (MLM), Emerald Publishing Group.