Faculty Series Lecture: Timothy Huebner
The Faculty Series Lecture titled, Presidential Leadership in a Nation Divided:  Lincoln, the Constitution, and the Civil War.  The lecture is presented in partnership with FIU's Department of History in the Steven. J. Green School of International and Public Affairs. The first 40 people through the doors will receive a copy of his book, Liberty and Union: The Civil War Era and American Constitutionalism.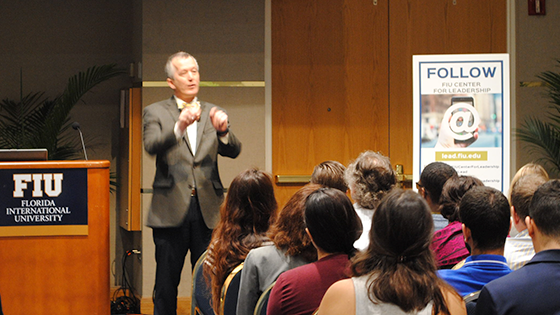 Presenter
Timothy S. Huebner

Timothy S. Huebner is the Sternberg Professor of History at Rhodes College. A specialist in the history of the nineteenth-century United States, he is the author of Liberty and Union: The Civil War Era and American Constitutionalism (2016), The Taney Court: Justices, Rulings, and Legacy (2003), and The Southern Judicial Tradition: State Judges and Sectional Distinctiveness, 1790-1890 (1999). He is co-editor (with the late Kermit L. Hall) of Major Problems in American Constitutional History, second edition (2010). In addition, he has published numerous articles in scholarly journals, and his essays, reviews, and op-ed pieces have appeared in the Memphis Commercial Appeal, the Wall Street Journal's Marketwatch website, The Weekly Standard, SCOTUSBlog, and the New York Times.

Prof. Huebner serves as co-editor (with Paul Finkelman) of Southern Legal Studies, a book series published by the University of Georgia Press, and since 2010 he has served (under editor Melvin Urofsky) as associate editor of the Journal of Supreme Court History, published three times a year by the Supreme Court Historical Society.

A member of the faculty at Rhodes College since 1995, Prof. Huebner teaches courses on the History of the American South, U.S. Constitutional History, and the Civil War and Reconstruction era.   He founded and directed the Rhodes Institute for Regional Studies, a nationally acclaimed interdisciplinary undergraduate research program, and later served as chair of the Department of History for six years. In 2004, Prof. Huebner received the Clarence Day Award for Outstanding Teaching, given annually to a member of the Rhodes faculty. That same year, the Carnegie Foundation for the Advancement of Teaching and the Council for the Advancement and Support of Education named him the Tennessee Professor of the Year.

A native of Orlando, Prof. Huebner received his B.A. from the University of Miami (Phi Beta Kappa) and his M.A. and Ph.D. from the University of Florida. He lives in Memphis with his wife Kristin and their two children.