#1 in Executive Leadership Development!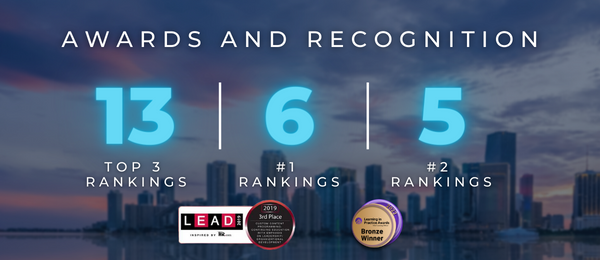 In 2022, The Center was recognized by Chief Learning Officer (CLO) with the Excellence in Academic Partnerships Award for our work with Broward County Public Schools. This is the third recognition from CLO. This award category recognizes accredited academic learning institutions that have partnered with an organization to develop skills, competency or knowledge in a general employee population.
In 2020, University Professional and Continuing Education Association (UPCEA) awarded The Center with the South Region Award in the Special Populations category for our leadership development work for the Principals Leadership Development Program (PLDP) in partnership with Miami-Dade County Public Schools. 
The Center has received top rankings from HR.com for our leadership development programming since 2014. The Center has received recognition in the category of Custom-Content Programming for our work with Miami-Dade County Public Schools administrators and the Center's leadership development programs were ranked #1 among all educational institutions in the U.S., for both custom-content programming and open-enrollment programs in 2018. The Center has continuously placed ahead of Wharton, University of Chicago, Cornell, Vanderbilt, and Stanford Continuing Education.
A History of Winning
Chief Learning Officer (2022)

Since 2003, the Chief Learning Officer (CLO): Learning In Practice Awards have recognized industry leaders who demonstrate excellence in the design and delivery of employee development programs through a combination of qualities such as leadership, vision, business acumen and strategic alignment. CLO is a multimedia publication focused on the importance, benefits and advancements of a properly trained workforce.

UPCEA South Region Award

University Professional and Continuing Education Association (UPCEA) is the leading association for professional, continuing, and online education. For more than 100 years, UPCEA has served most of the leading public and private colleges and universities in North America. In 2020, UPCEA awarded The Center with the South Region Award in the Special Populations category for their leadership development work for the Principals Leadership Development Program (PLDP) in partnership with Miami-Dade County Public Schools.

HR.com LEAD Awards (6 years)

Each year HR.com brings together the top minds in leadership development for the annual LEAD conference and LEAD Awards. During the awards, HR.com recognizes exceptional achievements and innovation in leadership development programs across 18 categories. The Center honored in being ranked consistently since 2014 for Custom and Open-Enrollment programs. HR.com is a social network site committed to creating inspired and informed workforces by maximizing human potential around the world.

2019

#3 in custom-content leadership development programs by HR.com

2018

#1 in open-enrollment leadership development programs by HR.com
#1 in custom-content leadership development programs by HR.com

2017 

#1 in custom-content leadership development programs by HR.com
#2 in open-enrollment leadership development programs by HR.com

2016 

#1 in open-enrollment leadership development programs by HR.com
#2 in custom-content leadership development programs by HR.com

2015 

#2 in educational institution category at the 2015 Leadership 500 Excellence Awards by Leadership Excellence and HR.com

2014

#1 in educational institution category at the 2014 Leadership 500 Excellence Awards by Leadership Excellence and HR.com