M-DCPS + Center for Leadership at FIU = SUCCESS: Featuring Raul Calzadilla, Jr.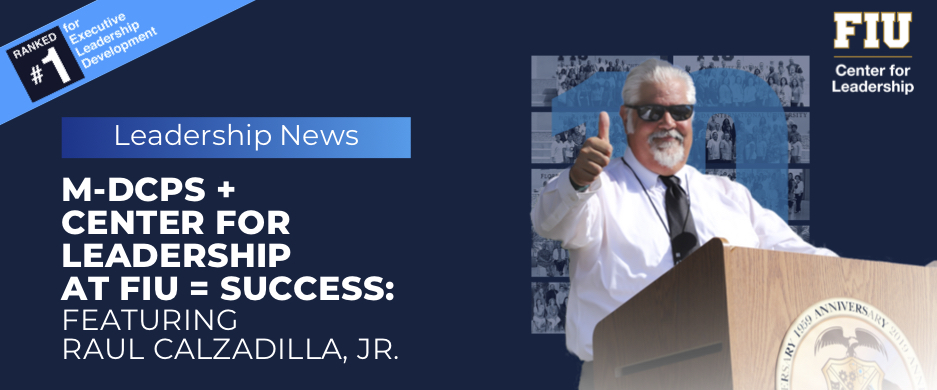 This year the Center for Leadership and Miami-Dade County Public Schools (M-DCPS) are celebrating their 10-year partnership in offering the award-winning Principals Leadership Development Program. This program is designed to empower M-DCPS principals to become more effective leaders and change agents in their respective schools and in the South Florida community. The partnership is made possible through a generous endowment from the John S. and James L. Knight Foundation.
As part of this 10-year celebration, the Center for Leadership will be featuring one principal from each of the ten cohorts over the coming academic year. Raul Calzadilla, Jr., principal, Air Base K-8 Center for International Education and Cohort II alumnus of the Principal Leadership Development Program (2011-2012), was our second interviewee to share his thoughts on leadership, the program, and his experience as a principal.
Q: What is leadership?
RC: I used to have a signature block quote that stated "Surround yourself with great people and empower them to lead." I believe that, and I also believe that it starts with respecting everyone and the work that they do!
Q: Reflecting on your experience as part of the Principals Leadership Development Program at the Center for Leadership, what one lesson from that program would you share with other leaders?
RC: The concept of self-reflection and continuously looking for ways to improve and to stay physically and mentally healthy were key take-aways! 
Q: How has this been beneficial to you in your own leadership?
RC: This concept has been helpful in that it has enabled me to implement tactical adaptability through many different challenges and opportunities in my career as a Principal.
Q: Briefly describe a memory/moment that had a significant effect on you during your tenure as principal and any lessons you learned that would be helpful to share with others.
RC: Truly, one of the most memorable moments in my career came during the 2018-2019 school year, when Air Base K-8 Center celebrated its' 60th-anniversary serving children in this community. With the support and help of an entire family of dedicated educators, families, volunteers, and amazing students, we recognized the historic role that public education has served in our nation's history over time. The Golden Knights were able to flawlessly execute a 20 team member parachute jump onto our field along with a flyover by an F-16 from the Homestead Air Reserve Base.
Want to learn more?
Read the other principal interviews at: