M-DCPS + Center for Leadership at FIU = SUCCESS: Featuring Stephanie M. Tudor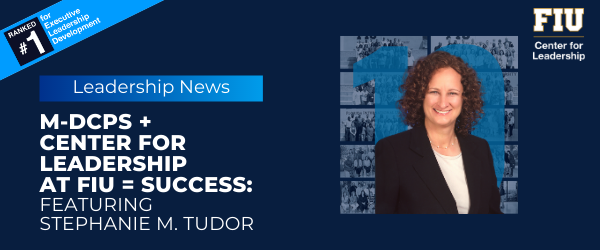 This year the Center for Leadership and Miami-Dade County Public Schools (M-DCPS) are celebrating their 10-year partnership in offering the award-winning Principals Leadership Development Program. This program is designed to empower M-DCPS principals to become more effective leaders and change agents in their respective schools and in the South Florida community. The partnership is made possible through a generous endowment from the John S. and James L. Knight Foundation.
As part of this 10-year celebration, the Center for Leadership will be featuring one principal from each of the ten cohorts over the coming academic year. Stephanie M. Tudor, principal at Lawton Chiles Middle School and Cohort X alumna of the Principal Leadership Development Program (2019-2020), was our tenth interviewee to share her thoughts on leadership, the program, and her experience as a principal.
Q: What is leadership?
ST: Leadership can be defined in many ways. To me, leadership is articulating a vision and plan for all stakeholders. I choose to share the vision and plan by telling a story. I found people will follow you if they understand what is happening along the way. Leadership is also making decisions that may not always make everyone happy. I make my decisions based on what will be best for the students.
Q: Reflecting on your experience as part of the Principals Leadership Development Program at the Center for Leadership, what one lesson from that program would you share with other leaders?
ST: The monkeys! My first year as a principal I took on too many monkeys (other people's tasks). I was always busy getting other peoples work done. During the past 6 weeks, I have not taken on any ones monkeys and I have learned to be accountable for work. I can totally see the difference in how people approach me with situations.   
Q: How has this been beneficial to you in your own leadership?
ST: By allowing everyone to keep charge of their own monkeys, I believe I am able to hold them accountable for their actions but also am able to start developing future leaders. I have made the shift from completing work to offering guidance on how to complete work. I have freed myself up to being able to lead my vision for the school.
Q: Briefly describe a memory/moment that had a significant effect on you during your tenure as principal and any lessons you learned that would be helpful to share with others.
ST: I answered a phone call from a colleague and listened. While I was having success at my school, I was struggling with how to raise the academic bar. I had shared my concerns at a meeting and the next day a principal in the feeder pattern called and said, "buy me lunch". I agreed and the discussion that followed helped me focus on a plan to raise the academic bar. The lesson I learned was to not be afraid and ask for help. I was not the first to have this struggle and now when asked I will be able to pay it forward.
Want to learn more?
Read the other principal interviews at: