M-DCPS + Center for Leadership at FIU = SUCCESS: Featuring Lisa Noffo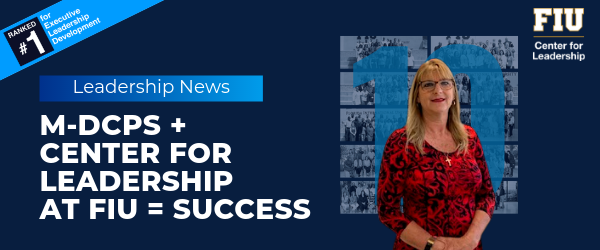 This year the Center for Leadership and Miami-Dade County Public Schools (M-DCPS) are celebrating their 10-year partnership in offering the award-winning Principals Leadership Development Program. This program is designed to empower M-DCPS principals to become more effective leaders and change agents in their respective schools and in the South Florida community. The partnership is made possible through a generous endowment from the John S. and James L. Knight Foundation.
As part of this 10-year celebration, the Center for Leadership will be featuring one principal from each of the ten cohorts over the coming academic year. Lisa Noffo, principal at M.A.S.T. @ Homestead and alumna of Cohort I of the Principals Leadership Development Program (2010-2011), was our first interviewee to share her thoughts on leadership, the program, and her experience as a principal.
Q: What is leadership?
LN: Achieving goals through knowing staff strengths and weaknesses to gain optimal outcomes through providing motivation for high standards and inspiration for professional growth.
Q: Reflecting on your experience as part of the Principals Leadership Development Program at the Center for Leadership, what one lesson from that program would you share with other leaders? And why?
LN: Building relationships. I recall the team building activities we did where we had to overcome obstacles as a team and depend on each other to succeed. 
Q: How has this been beneficial to you in your own leadership?
LN: I have used this skill to build trust among my staff. It has improved communication and morale. It also has helped staff members find leadership qualities they did not realize they had.
Q: Briefly describe a memory/moment that had a significant effect on you during your tenure as principal and any lessons you learned that would be helpful to share with others.
LN: Get involved in your community. Lessons that I have learned is that the community wants to know all the great things that are happening in your school. I have gained many partnerships that have benefited student achievement such as student internship opportunities. These community members also become great spokespersons for the school. They love to be informed. Invite them into your buildings as well.
Want to learn more?
Read the other principal interviews at: