10 Years of Educating Educators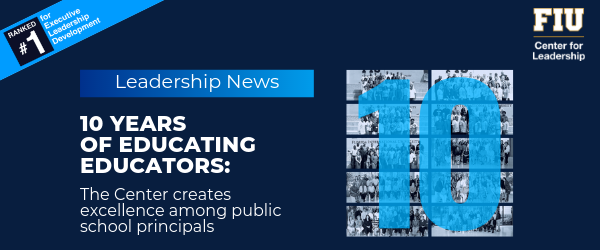 Tricia Fernandez was a second-year principal when she was hand-picked for the Principals Leadership Development Program developed between the Center for Leadership at Florida International University and Miami-Dade County Public Schools. Contessa S. Bryant was a third-year principal on an upward track with the district when she enrolled in the effort designed to hone participants' leadership skills.
Today, both are highly-respected leaders with Miami-Dade County Public Schools – and are outspoken examples of the award-winning leadership development program's success.
This summer, the Center for Leadership and Miami-Dade County Public Schools celebrate their 10-year partnership in the award-winning Principals Leadership Development Program (PLDP), made possible through the generous support of the John S. and James L. Knight Foundation. To date, PLDP has worked with 290 district principals designed to enhance professional development and leadership skills.
"Administrators at Miami-Dade County Public Schools realized that leadership in the academic realm transcends the classroom and administrative offices. School principals are a vital link between the two, driving organizational and student performance in important ways," says Dr. Mayra Beers, Program Director for PLDP and a Knight Research Fellow. "Working closely with Superintendent Alberto Carvalho and his team, we created a pioneering and lasting initiative that has supported organizational performance and helped the district in achieving its remarkable results."
Carvalho reached out to the Center for Leadership soon after his arrival in 2008 at the nation's fourth largest school district. Faced with nine failing high schools, a graduation rate below 60 percent, and a school system on the brink of bankruptcy, Carvalho needed to drive improvement. Together, the district and the Center for Leadership created custom programming for M-DCPS using the latest leadership research and best practices to improve principals' leadership and organizational development skills.
The district's turnaround has been nothing short of remarkable. By 2017, it had eliminated all F-rated schools. Graduation rates now surpass 85 percent. Despite federal and state education spending cuts, the district runs a balanced budget. Most recently, the district in July announced that for the second time in the history of the Florida School Performance Grades, it had received a district-wide grade of "A." For the third year in a row, the district had no "F"-rated traditional schools.
"Organizations thrive when they invest in the professional growth and development of their workforce," Superintendent Carvalho previously said of the program. "Miami-Dade County Public Schools has had a successful and long-standing partnership with the Center for Leadership at Florida International University. The Principals Leadership Development Program has been instrumental in providing our emerging leaders, both in schools and at the District, with resources and tools to foster their brilliance and passion for knowledge, and to motivate our students to achieve remarkable academic and personal success."
Better Principals. Better Schools.
When she was chosen for PLDP's second cohort in 2011, Fernandez knew administrators hoped to make her a better leader, "but I didn't know what that meant," she recalled. "It's easy to say 'I want to be a better leader.' But what is it you want to improve?"
Fernandez quickly found out. Together with her course mates of both seasoned principals and newer ones like herself, they discovered the role trust, collaboration, and introspection play in identifying and honing leadership traits. Through various activities over the year-long program, they participated in teamwork and leadership exercises – and overcame vulnerability by trusting others. In one competitive exercise, Fernandez navigated a balance beam and other obstacles blindfolded, with the voice of a teammate to guide her.
Looking at a group photo used as part of a Miami Herald article profiling her cohort, Fernandez realized how much she discovered – and how much they continue to rely on each other.
Ultimately, the program reaffirmed the traits Fernandez knew she already had, and honed others. She tackled her shy nature, becoming more comfortable speaking to and leading large groups. One-on-one coaching sessions helped Fernandez and members of her cohort identify ways to balance career with family, recalled the married mother of three now-adult children.
"Many of those people have become more than just colleagues. The program helped us define our relationships and make them stronger," said Fernandez, who today is the district's assistant superintendent for human capital management overseeing eight departments. She also helps head leadership development initiatives for the district. "The program gave me the skills to look at myself, my strengths and weaknesses, reaffirm the importance of the attributes I always had, and use those to build stronger teams."
As a third-year principal when she participated in the 2016-17 program, Bryant explored her inherent traits, leadership skills, and areas for improvement.
In completing two personal assessments as part of the program, Bryant unearthed her leadership strengths and weaknesses. Collaborating with principals from high- and lower-performing schools, they were able to see "the same job, but from a different world." She took those insights back to her elementary school – and beyond.
"We learned to recognize and build on people's strengths and make sure they have help for their deficiencies. That's where your leadership really emerges," she said. "This was the best professional development training I have ever received."
"By enhancing soft-skills, like communications, team building, and distributed leadership, PLDP has proven ideal, especially for educators like Fernandez and Bryant," said Jose L. Dotres, the district's chief human resources officer.
"PLDP develops more rounded leaders no matter the environment," he said.
PLDP is constantly evolving. The program is now standard for all third-year principals as part of their principal induction program. The district has also expanded their partnership by initiating their first ever customized program for principal supervisors this past year. Dotres could see future programs developed for teachers, a "bench" program for aspiring principals, and executive development for district administrators. The district is also exploring future, customized programs for district directors and higher-level executive leaders.
"Evolution is critical for a program like this," Dotres said.
"The Center for Leadership creates leaders who are better rounded and more prepared for a changing and evolving leadership world. The program exposes and engages you in conversations relevant beyond the school setting. Once a leader, the setting only changes. The skills are transferable and go with you wherever you are."
---
About the writer

South Florida native Jeff Zbar has enjoyed a 30-plus year freelance career as a journalist, editor, author, and marketing copywriter. His portfolio of print and digital work appears in media outlets and for corporate clients across all areas of business and industry.


For inquiries or any press related questions, please contact Shannon A. Hanson at the Center for Leadership at FIU.