Senior executive learns to refocus on personal and professional strengths
Adriene McCoy brought with her a list of professional habits she wanted to improve upon when she participated in The Women Leaders Program, an executive leadership development program presented by the Center for Leadership at Florida International University.
This was some 10 years ago. At the time, her penchant for "peace" and "harmony" in the workplace had become a means to avoid having hard conversations or not delegating work in order to handle things herself, she says. She called the habit "putting guardrails" around harmony.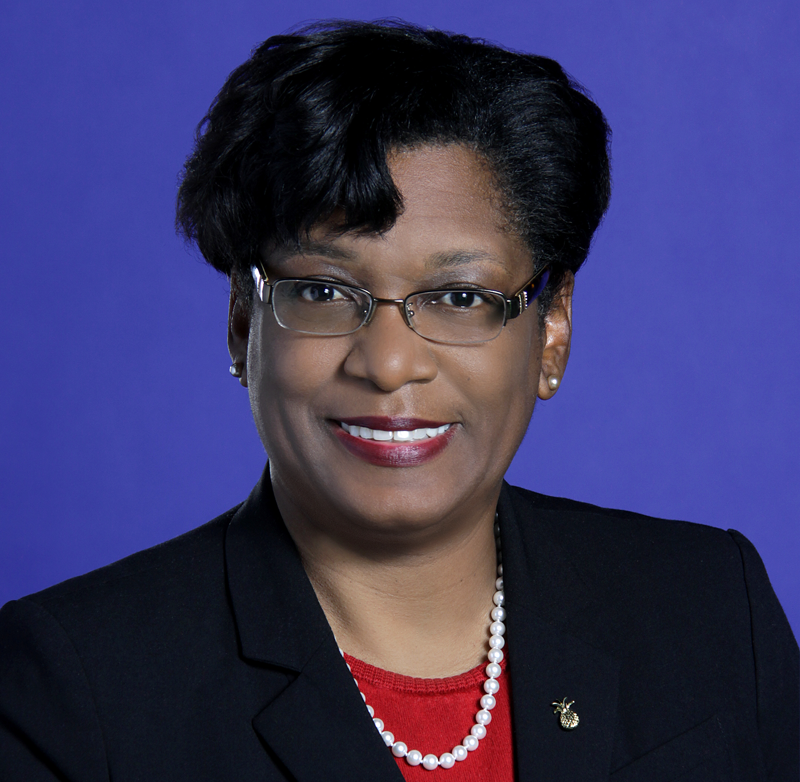 "We rarely think, 'If I take what I think is a positive action too many times, it can be a bad thing,'" says McCoy, now corporate vice president and chief human resources officer at Baptist Health South Florida. "This made me think about my life perspective, how harmony is good, but how not having a difficult conversation when necessary, all for the sake of harmony, is not."
Every leadership program at The Center focuses on two high-level facets of leadership:  self-insight and developable skills. Programs such as The Women Leaders Program, which leverage the most cutting-edge leadership research and best practices for professional development, help current or aspiring leaders navigate the path to professional improvement with personal assessments for insight, and practical tools for more effective behaviors.
Along with her questions, McCoy and her fellow participants also brought with them a questionnaire each had their coworkers and even family members fill out. The comments from her peers, husband, and grade school-aged child, combined with a strengths-finder assessment, revealed that while McCoy focused on what she thought were shortcomings, others saw her strengths, which she learned provided opportunities for her greatest professional growth.
By asking questions, facilitating discussions, and fostering conversations with fellow participants, participants can redirect their energy to areas that will truly accelerate their effectiveness, says Dr. Nathan J. Hiller, academic director for the Center for Leadership.
"Sometimes what they thought was their pressing need is in much better shape than they thought," he says. "The best leaders continually learn about themselves and others, and the best leaders keep practicing and learning new behavioral techniques and strategies."
Working with an executive coach, a female business leader, and program chair, Dr. Joyce J. Elam, dean emerita of FIU's College of Business, all who helped mentor her, McCoy learned to leverage her strengths and maximize opportunities. She also discovered the power of taking necessary moments of reflection before making important statements or decisions.
Though a career-long HR executive, McCoy learned people skills she never before had encountered. A listening exercise with her group revealed that she needed to stop "listening to respond," but instead to "just listen." The revelation was "the most uncomfortable exercise in my life," she admits.
"After 21 years as a professional, you'd think I was a better listener," she comments.
"There were exercises and revelations throughout the entire program where I could have been holding a mirror up to myself, which was great because I just never saw those things in myself before."
The lessons carry through to today. In strategy sessions with her team, McCoy relies on the team to write up the plans, as opposed to going off to write them up herself. Now, "I get a bunch of smart people in the room," she says, "and I serve as the catalyst.
"That's how I operate now. You just get a better product by involving more people and not carrying the whole weight by yourself," says McCoy, who currently serves on the Center for Leadership's Board of Advisors, and who sends several leaders from Baptist Health to each Center program.
"The Women's program changed my career and how I appreciate what my career provides."
In February of 2018, The Center was, for the 5thconsecutive year, top ranked for their executive leadership programs by HR.com and Leadership Excellence magazine. To learn more about The Center's executive leadership development programs, visit lead.fiu.edu/programs.