FIU's Center for Leadership bests Ivy Leagues in executive leadership development rankings.
The Center for Leadership at Florida International University took two first-place wins at the prestigious 2018 LEAD Awards, besting competition that included several Ivy League institutions. The announcement was made February 8, 2018, at the annual LEAD Conference in Salt Lake City, UT. Dr. Nathan J. Hiller, academic director for the Center for Leadership, and Shannon Hanson, assistant director, were on hand to accept the awards.
"The LEAD Awards, also known as the Oscars of HR, celebrate excellence in both HR and Leadership Development across the globe," stated Debbie McGrath, founder of HR.com and publisher of Leadership Excellence Magazine. "The awards showcase the world's most effective, leading edge and esteemed leadership and training and development programs and individuals."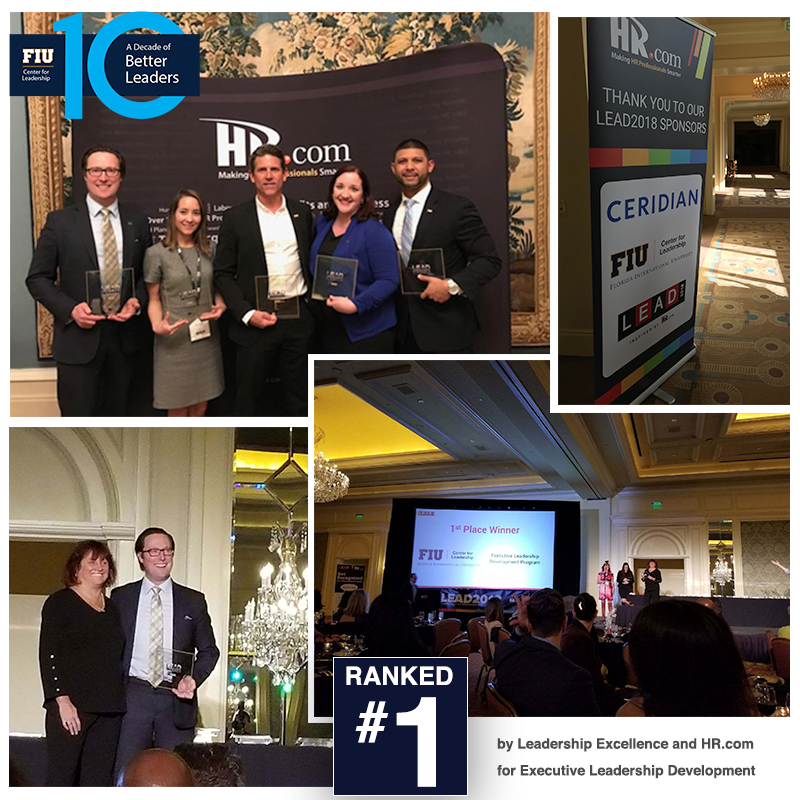 The Center took first place in the highly coveted and competitive leadership development, open-enrollment category, outranking last year's winner Carnegie Mellon (4th this year). The top ten also included Stanford Graduate School of Business (5th), the Wharton School of the University of Pennsylvania (6th), Vanderbilt University (7th), University of Chicago (8th), Stanford Continuing Studies (9th), and Harvard University (10th). This marks the fifth consecutive year The Center has ranked among the top three in the open-enrollment category.
"We are delighted that HR.com has once again recognized The Center with this prestigious award. It is a true testament to the commitment to excellence of The Center's Directors, staff and faculty," says Manny Gonzalez, Chairman of The Center's Board of Advisors and President, MGM Consulting and MGM Capital. "Their passion for providing world-class leadership development programs based on sound research and best practices, continues to be recognized by visionary leaders and their organizations."
The Center also received first place in custom content programming with emphasis on leadership or organizational development for its work with principal leaders in South Florida public schools. Programs were first launched in 2010, with the support of the John S. and James L. Knight Foundation, and designed leveraging leadership research as well as best practices from business practitioners to assist Miami-Dade County Public School leaders develop their leadership portfolio. To date, more than 500 South Florida public school principals and administrators, from across multiple districts, have participated in The Center's programs.
For over 30 years, Leadership Excellence, a publication launched by leadership guru Warren Bennis, has identified and recognized the top leadership organizations and their strategies and solutions in the magazine's annual ranking. Each year hundreds of education institutions and global business organizations apply to be ranked by Leadership Excellence. Rankings are heavily weighted based on alumni feedback regarding the applicability and lasting impact of program content, and social media is also leveraged to garner a more objective rating of each institution applying to be ranked.
"Each year, as institutions strengthen their leadership and organizational development programs, we face an ever-higher bar among providers," says Mayra Beers, Ph.D., director for The Center and a Knight Research Fellow.
"Now in our 10th year of offering leadership development programs, we're seeing employers increasingly rely on innovative training and development programs to elevate their effectiveness and strengthen their high-performing executives. That's why our continued recognition year after year – by our alumni, clients, and media such as HR.com – is so rewarding."
The full list of award recipients and rankings is published in the February issue of Leadership Excellence Essentials. For more information on programs, workshops and lectures from the Center for Leadership, visit lead.fiu.edu.