Strategizing & Focusing Your Leadership Development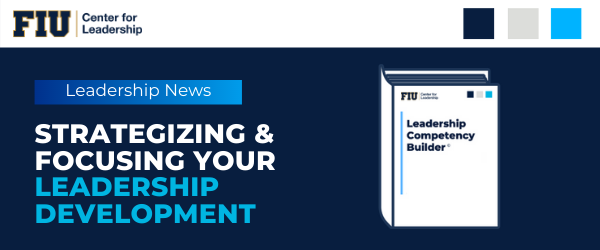 Leadership Competency Builder from the Center for Leadership at Florida International University Provides Key Insights into Skills Development
How can you set a plan to improve the way you lead? Or, how can an organization make sure its employees are equipped to be the best leaders? The newly released Leadership Competency Builder© tool from the Center for Leadership at Florida International University is set to build the foundation for better leadership.
A decade in the making, the Leadership Competency Builder or LCB, is a web-based tool that gives a much-needed glimpse into key leadership skills. The free, online self-assessment provides a tool to help individuals, teams and organizations focus on developing the right competencies – and avoid wasting time and resources on the wrong ones.
"The Leadership Competency Builder is a tool for individuals and organizations to think about leadership from a skills and competencies approach, then to prioritize them," said Dr. Nathan Hiller, Executive Director of the Center for Leadership. "It's important as an individual to know your skills and where you believe you are strongest or need work, then to start thinking more concretely about where to focus your or your team's developmental attention."
How it Works
It all starts with the 45 leadership competencies that were distilled from an extensive literature review of academic research on leadership by a team of researchers at the Center for Leadership. The competencies were then thematically organized into five meta-competencies: Leading Self, Providing Strategic Focus, Connecting with Others, Leading Others, and Delivering Results.
Whether taken as an individual, part of a team, or for the entire organization, the user categorizes the importance of these 45 competencies. This is done by a drag and drop feature that allows them to place the competencies into one of four quadrants: Primary Strengths, Secondary Strengths, High Priority, and Low Priority.
Upon Completion
Once completed, users receive a report via downloadable PDF. This report serves as a great way to help an organization focus in developing leadership. For example, senior leaders can understand an individual's strengths or what's most critical for the organization and spot specific areas of need. Leaders can look to improve their leadership in the form of courses, mentors, or other instruction on specific competencies.
Only the Foundation
One of the strengths is that this is NOT a prescriptive model; the full list of possible competencies by itself provides no direction or guidance for leadership development, nor does it seek to address style. Rather – custom results are based on user responses. It's solely about identifying perceived competencies and skills by clarifying and prioritizing strengths and gaps that can then help an individual or leader better assess or develop their leadership capacity.
"When you're developing your leadership, this is one way to triangulate other data points that you might have - from feedback from supervisors or from other people in your organization," Dr. Hiller said.
"This helps provide a springboard to advance that conversation about competencies, whether about individual, team, or organizational needs."
When applied at the team or organizational level, the LCB can help users to understand not only their own competency strengths and gaps in their units but also how different members view or think about them, said Ajay Rama Ponnapalli, a graduate research assistant and Ph.D. candidate at the Center for Leadership who participated in the LCB's development. For example, if leaders wanted to see how their own perceptions of the team's competency strengths and gaps aligned with those of members of their team, they could request that everyone, including themselves, take the assessment.
"They could then compare their own perspectives with those of the others. That could be quite an eye-opening experience," Ajay said. "This is an innovative feature that not many other tools provide."

Because this is a self-assessment, those taking the LCB must be truly honest with themselves. To aid them in their developmental pursuits, the tool restricts users to placing a maximum of 10 competencies in their "High Priority" quadrant so that they may be able to focus on developing this subset of competencies without over-burdening themselves.
Most leaders have a clear idea of where they want to sail. Less obvious is how to prioritize the development of skills and strengths needed to get there, said Dr. Sibel Ozgen, a graduate research assistant at the Center for Leadership with past experience in building competency models, who also participated in the tool's development. The ability to direct attention and focus toward critical behaviors and competencies needed to help reach these goals is pivotal.
"The LCB tool offers such an opportunity," she said.
"It can help individuals and organizations assess and identify areas that may need their immediate attention and action."
How to take the LCB
To take the LCB, click here. To discuss your findings, or to learn more about the LCB or the Center for Leadership at Florida International University, visit https://lead.fiu.edu or contact us at lead@fiu.edu.

About the writer

South Florida native Jeff Zbar has enjoyed a 30-plus year freelance career as a journalist, editor, author, and marketing copywriter. His portfolio of print and digital work appears in media outlets and for corporate clients across all areas of business and industry.