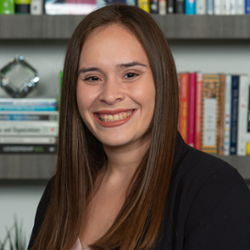 SR. PROGRAM COORDINATOR
EMAIL: svelazqu@fiu.edu
Florida International University 
Center for Leadership 
11200 SW 8 ST, MARC 410 
Miami, FL 33199 
Phone: 305-348-5323 
Sheryl Velazquez is a Sr. Program Coordinator at the Center for Leadership at Florida International University (The Center). In this role, Sheryl is responsible for the management and operational oversight of The Center's open-enrollment and custom programs and engagement events, which includes faculty support, logistics coordination, fiscal management, and evaluating program objectives.
Prior to joining the Center, Sheryl served as an Enrollment Coordinator at Nova Southeastern University, where she provided support for the overall management of student enrollment for the institution. While at Nova Southeastern University, she built relationships with current and prospective students through strategic enrollment methods in order to support the University's enrollment goals. 
Sheryl holds a Bachelor of Science degree in Biological Science and a Master of Science degree in Hospitality Management, both from Florida International University.