Nature and Nurture: When Leaders Meet the Opportunity to Succeed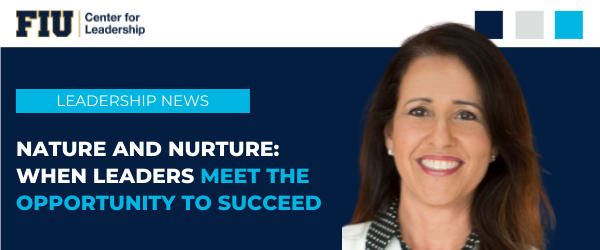 In a career spent learning to lead, no lesson stands out more starkly for Francis A. Hondal than the time she delivered a strategy presentation to the Mastercard board of directors. It was her line of business. She knew the content cold... but things did not go as planned.  
"I remember coming out of that meeting thinking, 'This is what failure feels like,'" she recalled. Instead of wallowing, she discussed it with a senior colleague, committed to learning from the experience, "and I moved on."  Three years later, she was back delivering a similar presentation to the board.  This time, the chairman praised Hondal on the performance of the business, while acknowledging the notable improvement of the presentation itself!
Failure, after all, is a necessary learning experience for all leaders on their way to success. Hondal's latest achievements have elevated the business to new heights; for example, overseeing the strategic acquisition of SessionM to advance merchant loyalty offerings, adeptly pivoting travel programs to meet consumers' evolving needs in the face of the pandemic, and digitizing issuer loyalty programs for superior consumer engagement. Today, Mastercard manages an incredible 1.2 trillion rewards points.
Join the Center for Leadership at FIU as Hondal, President of loyalty and engagement for Mastercard and a member of Mastercard's Management Committee, shares her "Lessons from a Leadership Journey" as part of The Leadership Lectures Series. The virtual conversation will be held on Thursday, February 3, 2022, from 11:00am-12:00pm ET.
Every position has been a learning experience for Hondal. Her first job after earning a bachelor's degree in Finance and International Business from Florida  International University (FIU) was with Barnett Bank, which offered management training for new hires.
Her next post, while completing her MBA at FIU,  was with American Express where she had mentors and executive coaches at her side during her 17-year tenure.
No lessons, however, have been more impactful than those of her youth. She was in student government in high school, jumping at the chance to lead various teams. While working at her parents' import/export business, she and her siblings saw how grit and determination molded success.
"I was a first-generation Cuban American. They were exiles. I witnessed first-hand their resiliency, how they managed the challenges they faced and the benefits of developing a can-do attitude grounded on the importance of faith and family," she said. "I often reflect on this - who I am as an individual and as a business professional. I developed an interest in taking on challenges, seeing how they figured things out and got things done. Invariably, I assumed some of those same leadership traits. I've always found a direct correlation to my upbringing."
The constant along the arc of her 30-year career has been a willingness to raise her hand; despite not always feeling ready. It came when she was tapped to be the general manager for American Express, overseeing operations for Latin America and the Caribbean.
"It was a daunting challenge. Several colleagues said I was nuts," she said. "I asked myself, 'what's the worst thing that can happen? I fail? I get fired?' I've always had this desire to challenge myself, to directly battle fear and to take on those challenges optimistically. That's happened throughout my career, with shifting jobs and responsibilities or taking on board opportunities."
Being a Latina in banking and financial services set Hondal apart. In 2020, Hondal was asked to join the board of Equitable Holdings; last March, she was named to the board of Bath & Body Works, Inc. The Association of Latino Professionals for America / Fortune named her among the Top 20 Most Powerful Latina Women in corporate America.
Today, Hondal pays it forward, mentoring young executives rising the ranks at Mastercard, and sending team members for professional development opportunities. She calls leading teams "the most rewarding, challenging and fulfilling experience" of her 30-year professional career. She recruits, coaches, and develops next-generation leaders, developing a knack for helping them reach their potential.
"To be a great leader, you have to step away from your own personal career objectives and think of yourself in the context of helping others reach their potential. I'm very passionate about investing in developing others and creating followership," she said. "I was really fortunate early in my career to have been given the opportunity to lead teams and a business unit. With a combination of willingness to get in the ring, to take on new challenges and the desire to drive impact, that invariably puts you in a leadership position. 
Interested in hearing more?
Watch the full conversation with Francis Hondal, "Lessons from a Leadership Journey" on our archived events page. 
About the Leadership Lectures
The Leadership Lectures feature world-class, accomplished and influential leaders withexpertise ranging from business and philanthropy to public service and academic research.
Through the Lectures, The Center for Leadership at FIU hopes to inspire thought-provoking dialogue within the community by providing access to the expertise, advice and best practices of some of the world's foremost leadership minds. As such, the attendance to the lectures are free and open to the public.
---
About the writer

South Florida native Jeff Zbar has enjoyed a 30-plus year freelance career as a journalist, editor, author, and marketing copywriter. His portfolio of print and digital work appears in media outlets and for corporate clients across all areas of business and industry.