More than a course – a transformation
Performing arts executive praises development program for lasting change in her leadership style.
Trish Brennan, vice president of human resources at the Adrienne Arsht Center for the Performing Arts in Miami, is lavish in her praise of The High-Impact Leadership Program offered by The Center for Leadership at Florida International University. Brennan attended the program more than seven years ago. As she hears herself talk about the impact of the program's lessons, she admits it all "sounds too good to be true."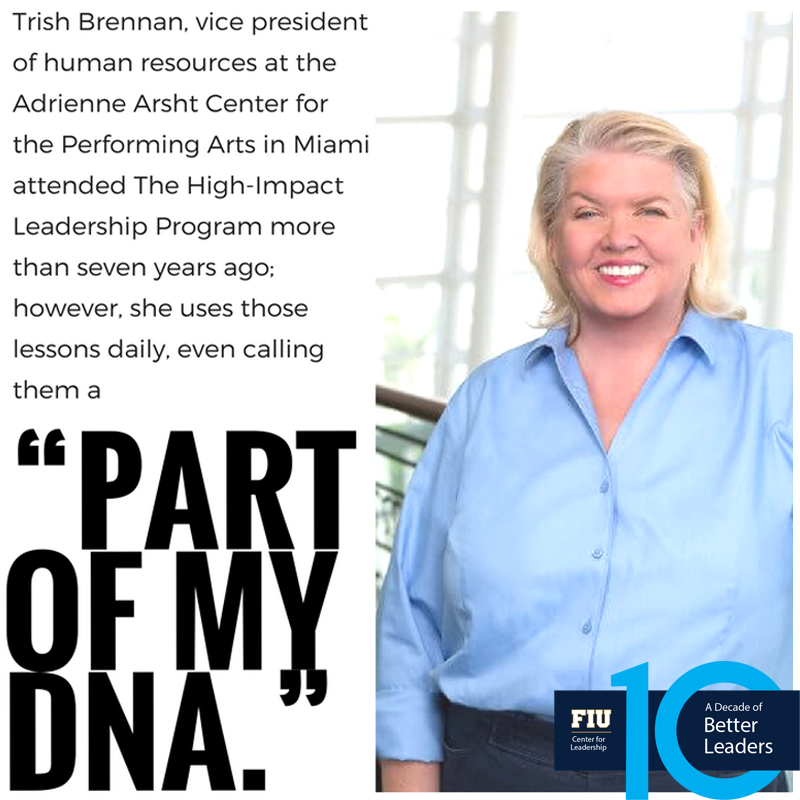 However, she uses those lessons daily, even calling them a "part of my DNA."
Given The Center's customized approach to leadership development programs, one-on-one coaching, individualized feedback and personalized action plans, Brennan's reaction is not uncommon. Course instructors hone in on each participant's most pressing leadership challenges to create lasting changes, says Dr. Nathan J. Hiller, academic director for the Center for Leadership.
"Participants in our program are often able to re-direct their energy," Dr. Hiller says. "Sometimes what they thought was their pressing need is in much better shape than they thought. Just knowing that can help them re-focus their energy on the things that will truly accelerate their effectiveness."
Working with Dr. Hiller as her coach, Brennan's "three day transformation" addressed a host of derailers that affected her own work and her interactions with others. She found, for example, that she had a tendency to take the lead on projects, instead of delegating, and became the "spokesperson for the team," where subordinates might have benefitted from such roles. She also tended to launch a project without first communicating her plan. "Then I wondered why they weren't keeping up," says Brennan.
All that has changed. Using strategies learned from presenters during the program, Brennan now is a better communicator and teammate to her staff. She prepares more thoroughly before meetings, aligning her and her team's tools for achieving the best outcome. If a situation arises that calls for a pause, she's more attuned to the signs and ready to stop and regroup.
Along the way, Brennan believes she has become a stronger leader. Her credibility and emotional intelligence are enhanced and she's "more even-keeled," she says.
"The lessons learned help me notice what the triggers were for my behaviors that weren't helpful to my leadership legacy."
What's more, Brennan, who reluctantly took the course in the first place, has recommended others at the Arsht Center participate in Center for Leadership programs. To date, nearly a dozen co-workers have attended Center programs, leading to a strong internal network that complements the community-wide relationships Brennan built during and after her participation in the program.
"What I learned has become part of my DNA. I use what I learned every single day of my business life," she says. "It has forever changed me as a professional."
To learn more about The Center's award-winning executive leadership development programs, visit lead.fiu.edu/programs.