When Julie Lanz walked into the Center for Leadership at Florida International University (FIU) as a graduate assistant, she admits she "looked and sounded like a jeans and Birkenstock-wearing" graduate student. When she graduated five years later, she had learned to "dress like a professional and think like a leader."
Jeff Thomas arrived as a master's student unsure of his future path. Today, the Ph.D. mentors his own students with the style in which he was mentored at The Center.
By her second day at The Center, Rebecca Gonzalez' talents were recognized as being way beyond what was expected of an unpaid FIU Honors College intern.
Luis Carrasco joined The Center while pursuing an accounting major at FIU, and graduated with his master's, a job at a "Big 4" accounting firm, and a fresh outlook on his life's journey as "a leader who was made, not born."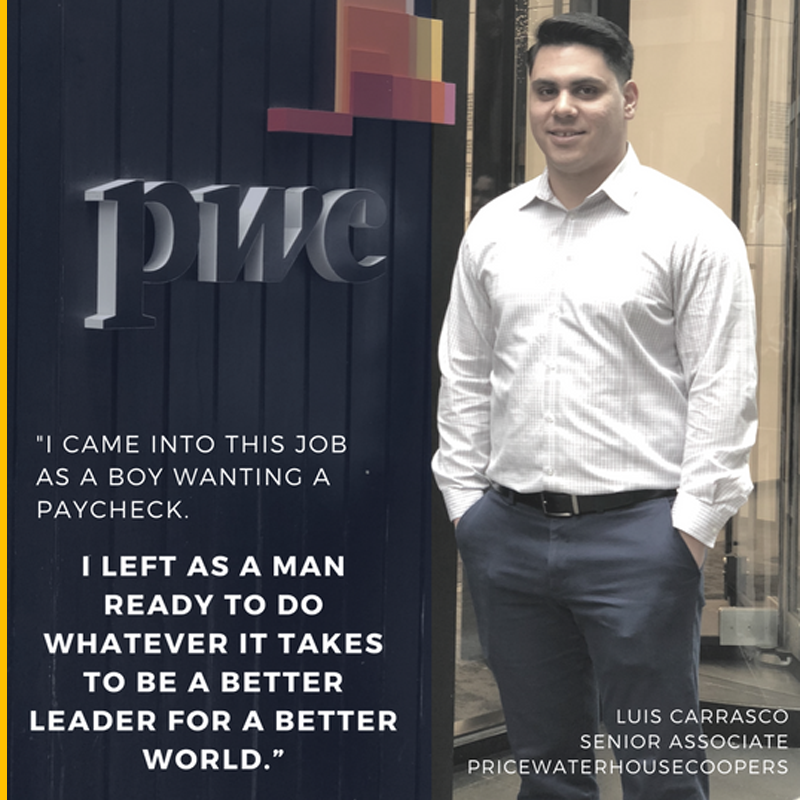 These four students each spent from 18 months to five years working side-by-side with Center leadership. Each emerged with uniquely different takeaways and as uniquely changed professionals.
"It's no accident that these students flourished during their time with The Center. They're carefully selected based on their intelligence and previous accomplishments," says Mayra Beers, Ph.D., Director for the Center for Leadership who works closely with each student.
"We introduce them as peers, not students," Dr. Beers adds. "By giving them opportunities to collaborate on research projects, enjoy personal introductions to key professionals who visit our office, and become contributors at our events, we nurture and encourage the confidence and potential that exists within them."
In its 10-year history, the Center for Leadership has worked with more than 25 undergraduate or graduate-level students as interns, part-time employees or graduate assistants. While responsibilities may vary, all become a face for The Center, actively engaging clients, guests and participants at Center programs and events that have been attended by more than 8,000 participants in the past 10 years, including 3,400+ students.
In addition to developing its own student employees, and consistent with FIU's strategic initiatives for student success, The Center consistently partners with student organizations such as the FIU Honors College to ensure university students have access to leadership experts and presenters. As a requirement of Honors College graduation, Honors students must complete 20 citizenship credits each year. To date, Honors students have earned more than 5,000 citizenship credits through participating in Center events and programs.
For each, a different story, lesson – and takeaway
Now an assistant professor at the London School of Economics, Jeff Thomas recalls his most lasting lesson from 18 months with The Center. He saw first-hand how successful and talented people struggled with the "hard career decisions" that drive work/life balance.
Thomas' own struggle was whether to pursue a career in academia, or to pivot into private industry as a consultant. He chose academia, and he now shares the lessons he learned with students he mentors.
"Balancing work and life requires sacrifices. To hear it from leaders [at The Center] who are that talented and have had that level of success really drove it home for me," he says. "Their mentorship helped me figure out my direction. They showed me that it was OK to ask for support to reach that next level. I integrate that into the way I teach and mentor my students today."
When Rebecca Gonzalez joined The Center in 2015, she had little experience as "a true professional," she says. Unaccustomed to the workplace, her lone paid job had been as a retail associate at Abercrombie & Fitch.
That soon changed. One of The Center's youngest-ever student assistants, Gonzalez keenly observed Center staff in action. She modeled their etiquette, body language, and tone, and how they addressed others. What she saw helped her become "an all-around business professional," she says.
She also learned to let her guard down. Once a perfectionist afraid to make mistakes, she discovered that at The Center, mistakes were treated as learning opportunities and so she grew more at ease. Lessons and habits learned at The Center molded Gonzalez' "professional presence" which now serves her in the workplace today.
"I was so green when I got there. But they were so welcoming and easy on that greenness," says Gonzalez, who today is a program support specialist for the U.S. Southern Command in Doral, FL. "Everything I learned about business I'm applying now. Even addressing people. Sometimes, the simplest courtesies and first couple of sentences can make a huge difference."
Learning to be a better version of himself
The huge difference for Luis Carrasco was the realization that life and career are a journey. When he first arrived at The Center, he approached it as just another job. If even unwittingly, Center leadership would have nothing of it, he says. Their professionalism, engagement, and "authenticity" moved Carrasco. His "nonchalance" was replaced by a stronger work ethic; he grew to want more time in The Center than his 20 hours of work study allowed each week, and even committed himself to volunteering in his community.
"This kind of attitude is contagious, and I caught on real quick," says Carrasco, who today is a senior associate with PricewaterhouseCoopers LLP in New York. "I would be lying if I said that I came to the Center for Leadership already a natural-born leader ready to take on my career and help out in the community. I came into this job as a boy wanting a paycheck. I left as a man ready to do whatever it takes to be a better leader for a better world."
Thinking back on her five years at The Center, Lanz recalls participating in a variety of projects, from preparing professor manuscripts to recruiting leading scholars and consultants from around the world, to collaborating with local leaders, community members, and students.
But it was joining Center faculty for lunch that afforded Lanz a rare chance to meet with Dr. Martin Seligman, the "father" of the positive psychology movement and a rock start among psychologists. She called that opportunity "unforgettable." Given her field at the intersection of psychology, business, leadership development, and statistical analysis, it was just one of several moments that "was a perfect fit" and which impacts her life today. Lanz is now an Assistant Professor at the University of Nebraska, Kearney.
Opportunities such as these are common for students working at The Center, that consistently brings to the university community thought leaders and practitioners in leadership and leadership research. Like Lanz, students at The Center often have opportunities to engage one-on-one with these industry leaders.
"It was a definitely a feather in my cap working there [at The Center]," she says, adding longingly, "I wish I lived closer to them so I could visit them more."
"We are very proud of our students," says Dr. Beers. "We have been fortunate to work with very accomplished young professionals who have been open to learning and development. Their success is ours as well. We hope to be able to impact many more in the course of our work."
Learn more about the Center for Leadership at FIU.