Carlos Humberto Escobar was a marketing manager with no direct reports when he registered for an executive leadership development program at the Center for Leadership at Florida International University in 2011.
When he completed the four-day intensive program, he was more attuned on how to work with his own bosses. Equally important, he felt prepared to become a more astute leader himself. Seven years later, Escobar is still using lessons learned during The High-Impact Leadership Program, even leadership skills that did not fully resonate at the time.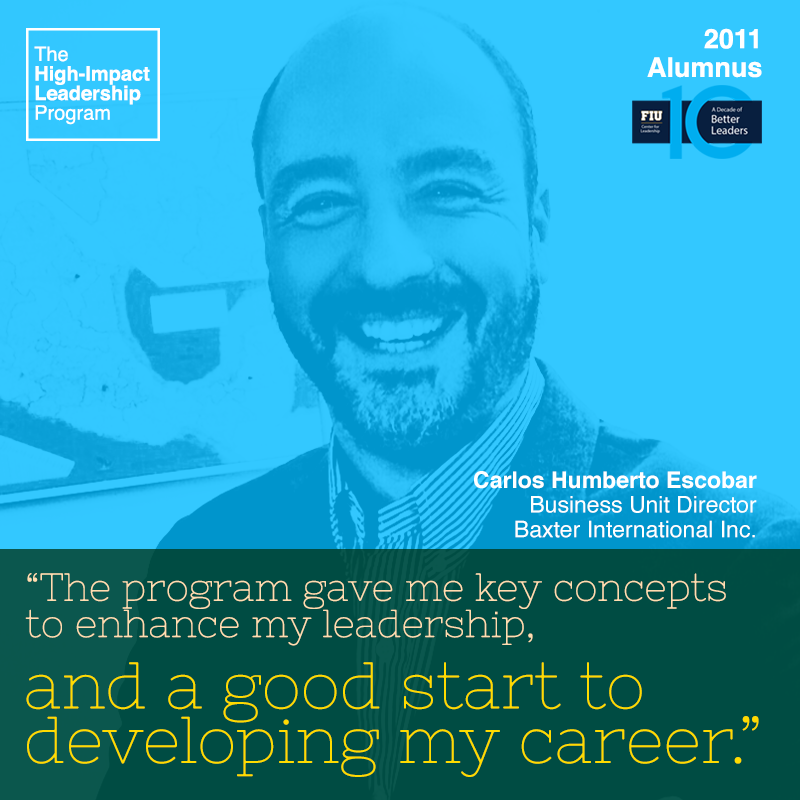 "I learned how to match the needs of my boss's personality and behavior," says Escobar, who today is a Business Unit Director with more than 80 direct and non-direct reports at Baxter International Inc., in Mexico City.
"The program gave me key concepts to enhance my leadership and a good start to developing my career."
As Escobar discovered, current "leaders" aren't the only participants in leadership programs. A focus on self-insight and developable skills at The Center hones skills in current and future leaders. Executive coaching, individualized feedback, and customized action plans help participants learn about themselves and how they can collaborate more effectively with others.
"Participants also learn new behavioral techniques and strategies and are able to redirect their energy into positive performance," says Dr. Nathan J. Hiller, academic director for The Center.
"Not every leader's needs are identical, or even apparent at the same time. Each program is geared to allow for attentional customization to really hone in on what your specific needs are," Dr. Hiller says. "Sometimes what they thought was their pressing need is in much better shape than they thought. Just knowing that can help them re-focus their energy on the things that will truly accelerate their effectiveness."
Working with his coach
Escobar identified personal derailers, including "jumping to a solution right away" when presented with a problem. It became especially apparent when he arrived back in Mexico City and Escobar discovered he lacked specific expertise. Leadership training encouraged him to "back off and learn" what he didn't yet know.
Escobar is still honing how he "manages" up - offering his own insights or challenging his bosses only after preparing safeguards and double-checking his own arguments, and respecting their time by only presenting what is most pressing.
Escobar continues to develop his leadership style. With scores of people now under him, Escobar strives to be an engaged boss who takes time to know his team one on one and better understand what they need in order to thrive. He calls it leading with a "conscience."
"I'm still working on this," says Escobar.
"You don't need to have a problem to take this course. It helped me understand key points I would one day need to leverage to be successful and continue growing in a big organization."
Learn More
To learn more about The Center's award winning executive leadership development programs, visit lead.fiu.edu/programs.