Crunching the numbers: From CPA to CEO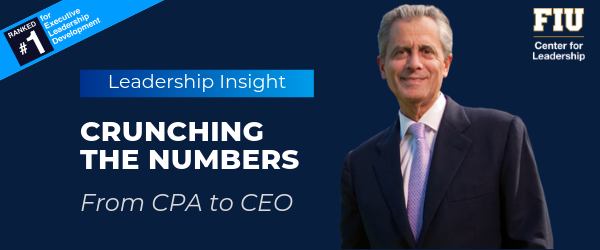 Antonio "Tony" Argiz is the quintessential American immigrant success story. Born in Havana, in 1962 he was sent to the U.S. without his parents at 9 years old; it would be five years before he would see them again.
Growing up in Florida, Argiz' skill on the baseball diamond earned him an athletic scholarship to Florida International University. Realizing his future was more than baseball, Argiz took the opportunity, earned his bachelor's degree in business administration and became a CPA.
Disappointment came fast. Argiz' first boss told him he'd never succeed in accounting. But Argiz's determination drove him forward. His second boss, Al Morrison, became a lifelong mentor who by 1997 handed Argiz the reigns to the firm that would eventually become Morrison, Brown, Argiz & Farra, LLC (MBAF). That year, the company did $8 million in revenue; by 2018, its 13 offices and more than 650 employees posted more than $126 million in revenue.
Along the way, Argiz led, advised, and mentored the firm's new accountants and built one of the nation's leading independent CPA firms. MBAF has been named a Best of the Best firm by INSIDE Public Accounting for the last 17 years consecutively. Accounting Today has named it Best Accounting Firm to Work For in both 2017 and 2018. Alongside its business success, Argiz and MBAF have been tireless community supporters.
Happiest with family at his side, or while relaxing on a Bahamas beach with a glass of rum and a cigar, Argiz, 67, took time recently to share his thoughts on leading and learning. His thoughts on his life journey and mentorship on his career success provide a lens on a life well-lived.
---
SUCCESS IN BASEBALL AND IN LIFE
Q: You were a child immigrant and later a college baseball player who today heads one of the nation's leading independent CPA firms. How did each prepare you for the next stage of your life and career?
TA: I guess the first thing was coming to this country, at that age of 9; it really shaped me. I learned so much. Being without my parents for five years, I had to quickly grow up. Whether it was boarding school or in society, I had to survive. I couldn't go home and ask mom and dad for a couple of dollars. So that taught me self-reliance. If I wanted cash, I had to go out and get summer jobs, whether it was cutting someone's lawn or cleaning the plastic pools at Montgomery Ward in Tampa or working as a busboy. By the time I graduated from high school and went to college, I was the maitre d' at the restaurant where I worked.
Playing baseball at the same time also taught me how to be part of a team. You have to get all nine players participating and helping out in order to succeed as a team. I saw that as a part of my job, too.
In 1977 I started with Caplan, Morrison, Brown and Co., and made partner five years later in 1982. By 1986, when I was only 33 years old, I was assisting Al Morrison in firm management. Two years later, the firm had added my name and became Morrison, Brown, Argiz.
Obviously, having learned at such a young age to have the courage to go to people's front door, introduce myself, and offer my services was great training. And you also had to get yourself known around town in order to get those doors to open and be able to offer your services. So, as I got older, I was well able to use those same skills to build a career and business.
CAN DRIVE BE TAUGHT?
Q: Do you see that "hunger" to succeed in people you lead today? Can that drive be taught?
TA: I still see that hunger in today's workplace. But as a leader,
I believe you have to know the right way to motivate individuals, and to get them to have that drive.
It is all about knowing what matters to your team. For some, it's not just about money. The combination of life experiences, and your personal desires to succeed, that makes you "hungry." You can learn that on your own, but you also can be motivated by your colleagues and leaders. 
At FIU, for example, you see so many first-generation college students. Let me tell you, if there's hunger, it's in those students. They want to be able to show that, unlike their parents who did not have the opportunity to go to college, they were able to do something about it.
Q: What can an entrepreneur or executive learn from his or her accountant about business or leadership?
TA: You can think about business like a baseball batting average. In baseball, if you get on base a third of the time, you are a star. In business, if you get on a third of the time, I think you've failed. But the batting average of an entrepreneur is not one of success all the time, because even some of the greatest entrepreneurs have failed many times.
Entrepreneurs might not know all the risks involved, and that's why they jump in to get it done. But, as a CPA, I know how to read a balance sheet or an income statement well. I can look and dissect a business pretty easily. I look at every potential possibility as part of due diligence and share that with my clients to make sure that they are aware of the risks.
For example, entrepreneurs may not see debt leverage as being an issue. They just do whatever it takes to make it. So for the accountant, it is critical that they understand the business and the industry. Then the accountant can really communicate the risks and opportunities to the entrepreneur, guide them along on the intricacies of the business, and show them how to make that business work. Or they can explain why it didn't work before.
ON MENTORSHIP
Q: What role did mentors like Al Morrison play in your leadership development?
TA: Al may not have known numbers as well as I did, but he had life experience. I think the thing that helped me the most was learning from him how to deal with people. I thought that everybody was like me. If I was knowledgeable in an area, I wondered, "Why doesn't everybody have that type of knowledge?" Al made me realize not everyone necessarily knows what you do, but they can add value. The key is, you need a whole team, and you have to be able to communicate effectively to be able to bring the ones at the bottom of the ladder up to make your team a success.
Q: What other leadership lessons do you share with your team?
TA: There was a client who also became a mentor for me. Orlando Gomez built about three companies before he passed, and he helped me understand how companies were bought and sold. Coming out of college, I didn't really know much about the stock market, but he taught me why stock prices matter. In addition to that, he showed me how to properly run a business; how to lead by example; and that the only way to succeed in business is by being straight forward and transparent.
LEADING THROUGH THE GAP
Q: Today you lead a broad age group of people from Baby Boomers to Millennials. What do you find the hardest part about leading today, and how have you had to change and evolve over the years as a CEO?
TA: You need to evolve and really get with the times to lead a multi-generational team. I think the biggest thing with Millennials today is they want a lot of flex time and prefer in many cases to work from home. When I grew up in the accounting profession, that was no-no. But today, you have three percent unemployment or less. Talent is hard to find. You're looking for the stay-at-home parent who left the workplace because he/she couldn't work on a traditional full-time basis. We've adapted, and now we have employees who work full time, but from home.
Also, you have to think about soft skills. With many Millennials, you have to go out of your way and teach them a lot of the soft skills that a worker 20 or 30 years ago necessarily wasn't expected to need.
And it's not just the employees; client expectations have also changed. Everyone wants everything faster. So, it changes how your employees need to work and what you have to do to accommodate that fast-paced environment.
I was reading an article recently that said as people age -- people in their 60s now – they are better able to help cultivate leaders better than someone in their 30s who is still fighting against the current in their careers. At an older age, you should be able to be more balanced, more patient, and a better listener, which helps quite a bit when you are trying to develop others.
STAYING INFORMED
Q: How do you stay informed to stay atop your field?
TA: Keep learning. Whether it's about your clients, about your industry or the one you're trying to help your clients with. And there is also a wealth of professional development courses to help develop your leadership skills.
I also think getting involved on boards and professional organizations is a great way to interact with fellow leaders and learn from them, to see what's made them successful. What have been the potholes along the way for them and how have they managed them? 
Another key way to stay on top of things is to take time to listen and learn from your employees. They have great ideas. Just listening and having open communication with them can teach you a lot about what they expect in a leader and how you need to adjust to be more effective.
GIVING BACK
Q: You recently earned the prestigious Greater Miami Chamber of Commerce Sand in My Shoes award for community service. Why is community service important to you, to your firm, and to the community?
TA: My desire to give back comes from my experience as a child. I came to this country, and I had to rely totally, totally for five years, on the charity of others. That taught me to recognize the importance of community service. In fact, I remember in high school that an aptitude test that I took said that I should be a social worker.
By choosing accounting as my career, I've been able to dedicate some of my spare time to community service. That's important, because I think that every great business needs to give back to the community. I can't see living off a community, and not giving back its fair share. At MBAF, if the employee wants to get involved with an organization, we support them, whether it's sponsoring corporate run teams, or organizing a fundraiser for the organization that's dear to their heart.
FINISHING WELL
Q: What's your finish line?
TA: I love what I'm doing. I wake up every day and I still have the same drive I did at 21 when I was graduating from FIU. So, I love to help groom our next generation of leaders. I'd love to see MBAF be at least over $250 million by the time I leave. By continuing to grow the company, it allows me to help our employees succeed and support their families, which is really important to me.
Q: You speak of that 21-year-old. What would you go back and tell yourself at 21 about life, career, and leadership?
TA: I don't think I've changed much. I'd tell myself never stop learning. Take advantage of the many mentors you will have in your life because each has something important to teach you. And, don't forget to make time for your personal life, which is as important as your professional career.