A Team of Leadership Experts Ready to "Rock" the Leadership Development World.
With the addition of internationally acclaimed Dr. Fred Walumbwa, FIU's Center for Leadership is strategically positioned to drive leadership research and development.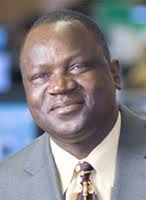 Author, professor, researcher and leadership expert Fred Walumbwa, PhD, has joined the faculty of the College of Business at Florida International University (FIU) and has been named to the Academic Advisory Board of FIU's Center for Leadership (CFL).
With a focus on leadership and leadership development, Dr. Walumbwa joins three other distinguished professors who together drive the research efforts of the CFL.
"With the addition of Dr. Walumbwa, we have a 'fab four' faculty," says Dr. Mayra Beers, Director of Operations for the CFL. "Individually, each professor on our team -- Dr. Mitch Maidique, Dr. Nathan Hiller, Dr. Hock-Peng Sin and now Dr. Fred Walumbwa -- has an incredible set of skills, including prolific writing, ground-breaking research, innovative thinking and the ability to transform good leaders to great leaders.
"But when you put these four together, there is a strength within the College of Business and within the Center for Leadership that cannot be matched elsewhere. These four are set to challenge existing paradigms and rock the leadership development world."
A Stellar History of Excellence and Achievement
Dr. Walumbwa holds a PhD (2002) and a master's degree (1997) from the University of Illinois at Urbana, where he concentrated in Organizational Behavior and Human Resources. Since 2005, he has taught at the Arizona State University, most recently as an Associate Professor with tenure in the Department of Management. He has an incredible array of academic and professional appointments including serving as Visiting Professor in the Organizational Behavior Department at the University of Lausanne in Switzerland.
His research interests include exploring how effective leaders emerge, evolve and develop and the impact of important outcomes across cultures; he also studies the how, when and why of contextual factors in leadership.
Dr. Walumbwa is co-author of the book Authentic Leadership Theory and Practice: Origins, Effect and Development published by Oxford, U.K. (2005) and has dozens of publishing credits in all major academic journals, including "Ethical Leadership and Employee Citizenship and Work Withdrawal Behaviors: Examining Mediating and Moderating Processes" appearing in Leadership Quarterly (2013).
"Leadership today involves being able to quickly make the right decisions and step forward with information and a plan," Dr. Walumbwa says. "In a crisis, leaders no longer have the chance to say, 'I'll get back to you.' When a situation is occurring, the internet is already dispensing information. A leader has to know how to act and what to say right now. People are waiting for the leader -- but if he or she doesn't help, they will turn elsewhere for information."
Leadership development is more important than ever, to equip leaders with the precise skills, qualities and attitude they need, Dr. Walumbwa points out. "I am thrilled to be a faculty member of the College of Business and to have the opportunity to work with the Center for Leadership, to continue the extraordinary work this organization does," he says.
The FIU Center for Leadership also boasts a team of three other extraordinary faculty focused on leadership research, education and development.
Dr. Modesto "Mitch" Maidique is executive director of the CFL, the Alvah H. Chapman, Jr., Eminent Scholar Chair in Leadership and a Professor of Management in FIU's College of Business. From 1986 to 2009, Professor Maidique served as president of FIU and led its transformation from a comprehensive university to a major research university classified in the highest ranking awarded by the Carnegie Foundation. Author and international leadership expert, Dr. Maidique has been the recipient of many local, national and international distinctions and awards. He serves as faculty director of the Senior Executive Leaders Program developing competencies for top leaders in organizations.
Dr. Nathan J. Hiller is a Founding Fellow of the FIU Center for Leadership, an Assistant Professor of Management and International Business at FIU and a Knight Ridder Center Research Fellow. His research has appeared in top journals in the field of management, including: Academy of Management Journal, Strategic Management Journal, and The Leadership Quarterly. Dr. Hiller is also the Faculty Director for The High Potential Leaders program, the center's executive leadership development from for high impact corporate executives.
Dr. Hock-Peng Sin is an industrial-organizational psychologist and assistant professor of management in the Department of Management and International Business at FIU. His research interests include leadership, management of dynamic performance as well as multi-level methodology in organization research. Dr. Sin's work appears in leading journals; he has received several best paper awards including the Leadership Quarterly Best Paper Award (2011).