Center for Leadership at FIU Appoints Alexandra Villoch to the Board of Advisors.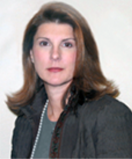 Alexandra Villoch, senior vice president of marketing and advertising at The Miami Herald Company, has been appointed to the Board of Advisors of the Center for Leadership at FIU. Among her many responsibilities as a board member, Ms. Villoch will use her business expertise to lead and assist long-term funding efforts, extend the Center's reach to local and international communities, help with recruiting participants for the center's executive leadership programs and events, as well helping to continuously build awareness of the work of the center.
Prior to joining The Miami Herald, Ms. Villoch was general manager of United Airlines at Miami International Airport, and was responsible for all operations and sales for Miami and the Caribbean. She is heavily involved in multiple civic boards in the arts and business communities in South Florida, including the Greater Miami Chamber of Commerce and Big Brothers/Big Sisters.
"The Center for Leadership is honored to have Ms. Villoch serve as a member of the Board of Advisors," said Modesto A. Maidique, president emeritus of FIU and executive director of the Center for Leadership. "Throughout her distinguished career she has excelled in the business world and served as a model leader to the entire South Florida community. Her dedication epitomizes the mission of our Center to achieve greatness as an international research and leadership development institution."
Founded in 2005, the Center for Leadership recently received national recognition from Leadership Excellence Magazine in their 2012 Leadership 500 ranking. A part of the College of Business at FIU, the center provides leaders with the competencies that will positively transform their organizations and the society they impact. Their mission encompasses cutting-edge research in the area of leadership development, delivering innovative leadership programs and strengthening the leadership understanding of the community-at-large through workshops, seminars and events.
"I'm thrilled to be part of an organization as widely respected as the FIU Center for Leadership," added Alexandra Villoch.
"There is no other organization in South Florida that provides the level of leadership research, executive training and development tools needed to transform the leadership in our community and continue to elevate it to higher levels."
Original Press release from Kreps DeMaria 12/14/2012.