The Challenge of the Young CEO: Earning the Respect of the More Seasoned Worker.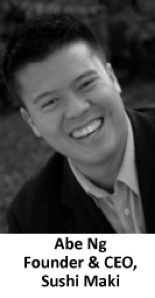 Abe Ng was a toddler when some of his current employees were getting married, having kids and achieving other markers on life's journey. Yet Mr. Ng, now 39 years old, leads a diverse group of employees to new levels of success as president, founder and CEO of Sushi Maki, South Florida's award-winning leader in innovative Japanese cuisine.
Mr. Ng (pronounced Eng), a Miami native, established his company in 2000. Sushi Maki has an excellent reputation of serving fresh, quality fare in out-of-the-box environments (restaurants, airports, high schools and universities, sports arenas, etc.) Sixteen locations operate under three brands--Sushi Maki, Pao Town and Canton Chinese--and the company is a partner with Whole Foods Markets for sushi stations in the South Florida stores.
Industry trend watchers are betting that Sushi Maki will soon go national, the ultimate dream of most entrepreneurs. "Someday there will be a national sushi brand. Why not us!" says Mr. Ng with his customary enthusiasm.
Sushi Maki now numbers 250 employees, with the age demographics one would expect. The corporate team mainly consists of people over 40; in the management team, most are around Mr. Ng's age; at the store level, ages range from 18 to 70 years old. 
How does a 39-year old effectively lead people from such a wide range of ages, especially those who are much older? For Mr. Ng, named one of the
Miami Herald's 2011 "20 under 40" and the South Florida Business Journal's "40 under 40," it starts with respect.
"My father was an immigrant who came to this country with $100 in his pocket," he shares. "Yet I received an Ivy League education and graduated debt-
free. That's a humbling platform to come from. I have learned to respect those older than me and, just as importantly, listen to their wisdom and experience."
Mr. Ng shares specific techniques for effective leadership:
"Be self-aware and realize you have weaknesses. When you're younger, you think all the answers are rattling in your head or you can get to them quickly. A good leader realizes that's not true."
"Especially with older employees, a relentless work ethic helps validate you as a leader. I grew up getting to work before my boss and staying until the boss left. My employees see my drive and determination but they also see that I work hard. That goes a long way with earning the respect of older workers."
"Surround yourself with people with complementary temperaments and skill sets. But you need diverse backgrounds and ages on your management teams to help you lead a diversified company."
"Managing or leading older folks effectively means being respectful of their years of experience and their wisdom. You also need to be humble and realize you don't have all the answers."
"Everyone knows in this company you are judged by your production not by your age. The rise to the top is based on how you perform not on seniority."
Mr. Ng also offers a bit of advice for dealing with all employees, no matter what demographic. "Don't come across as a know-it-all. No age group appreciates that," he says with a smile