Be a smart disruptor… Advice from President and CEO of Celebrity Cruises

A conversation with Lisa Lutoff-Perlo
Shaking things up a bit, reinventing what you do, being an agent for change. These forms of disruption can help you become a successful leader if you're smart about it, according to Lisa Lutoff-Perlo, President and CEO of Celebrity Cruises, part of Royal Caribbean Cruises.
"Think of any great leader and they probably disrupted what we knew," she says. "Smart disruption takes courage but it also takes know-how to make the right kind of difference. In the business world, smart disruption can bring people into your brand and grow your business."
Lutoff-Perlo is often a smart disruptor herself. She has held a variety of roles during her 32-year tenure with Royal Caribbean Cruises Ltd.
Lutoff-Perlo was Celebrity Cruises' Senior Vice President, Hotel Operations, where she played a vital role in shaping extraordinary guest experiences for the brand and spearheaded the introduction of the $3.7 billion Solstice-class fleet. As Executive Vice President, Operations for Royal Caribbean International, she developed and launched the next generation of Royal Caribbean cruise ships, the Quantum class of ships in November 2014 and in December 2014 she was named as President and CEO of Celebrity. Celebrity has won more awards during her tenure as President and CEO than any other time in the company's history
"I lead from the front," she says. "I'm very straightforward and help everyone understand where we need to go. I feel I am very participatory in helping the team set our aligned vision and direction on how to get there."
"I never lead through fear or intimidation."
This dynamic leader says she loves the book Leaders Eat Last: Why Some Teams Pull Together and Others Don't by Simon Sinek. "That speaks to my style of leadership," she says. "The team comes first. Take care of the team and they take care of the brand."
Non-negotiable values of leadership
Lutoff-Perlo has built a strong leadership team at Celebrity Cruises that she says has been possible only because she gathers those who have the right values, the right attitudes.
"There are values this company operates with that are part of every job description and these values are absolutely imperative for my leadership team," Ms. Lutoff-Perlo says. "We all come from different backgrounds, different places, but these values are non-negotiable."
Nurture your employees: People who work hard every day are the ones that matter. Brands are successful when team members give you discretionary effort, above and beyond what's expected of them. That only happens if they know you really care about them.
Find a way or make a way. At a meeting or in the field, when presented with a great opportunity, don't look for the reasons why it can't happen. Let's find out how we can get something done.
Do the right thing — all the time, including when you're finding a way or making a way.
Play as a team. No individual is more important than all of us. No one person's opinion is the only one that matters. Great sports teams win because they play successfully together not because they have a superstar or two.
Simple and fast. Sometimes in large companies, bureaucracies can stifle you but people who need to get things done need leaders who can make decisions. In particular, on ships around the world, the leader may need a decision quickly so we created a culture where that happens.
Open communication is vital, as every workplace survey will tell you. We need to talk to each other in an open and safe way. No one will be perfect at it but let's keep working to get there.
Better tomorrow than today. Even if things are great today, work to make tomorrow better.
Walk the talk. No matter what size of group you're leading, that's the only way you will build credibility in your organization. If I say I will do something, I do it.
Advice for aspiring leaders
Lutoff-Perlo laughs when she reports she started her leadership role at the age of two when her first sister was born and a young and eager Lisa took charge of the baby. "I was also the kid in school everybody disliked because I would be the one the teacher picked to be in charge of the class if she had to leave for a few minutes," she adds
Throughout her career, she has carefully and persistently developed her leadership skills.
"Even if you don't have a leadership position currently, look for opportunities to lead," recommends Lutoff-Perlo. "You don't have to have the title to lead people in a productive direction."
She reports that in her organization there have been occasions when a unit is missing a leader. "As we looked to replace the leader, you know, there are often team members who stepped up to help the team achieve their goals," she says. "That type of leadership gets attention."
Build upon each opportunity, she adds. "I found the place I love, and the career I love, by always being ready to move to the next step," she says.
Leadership lessons learned along the way
After joining the company in 1985, it took Lisa Lutoff-Perlo 32 years to achieve the top spot at Celebrity Cruises, the cruise line with the iconic 'X. She is happy to share leadership lessons she's learned along the way. "I wished I had learned some of these earlier in my career," she says with a grin.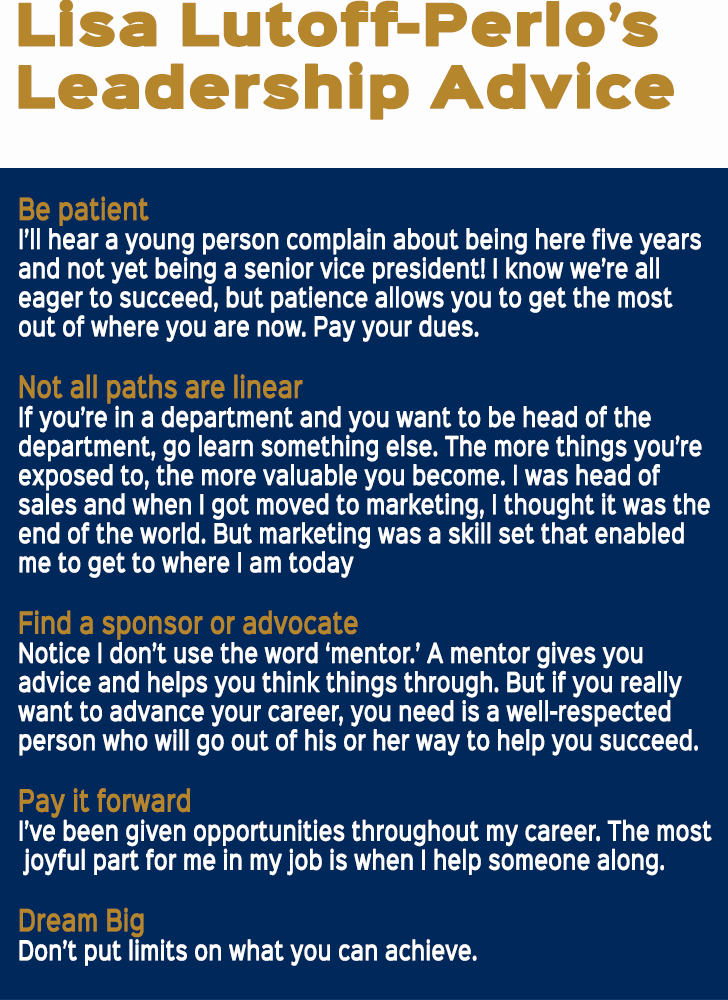 Be patient. I'll hear a young person complain about being here five years and not yet being a senior vice president! I know we're all eager to succeed, but patience allows you to get the most out of where you are now. Pay your dues.
Not all paths are linear. If you're in a department and you want to be head of the department, go learn something else. The more things you're exposed to, the more valuable you become. I was head of sales and when I got moved to marketing, I thought it was the end of the world. But marketing was a skill set that enabled me to get to where I am today.
Find a sponsor or advocate. Notice I don't use the word 'mentor.' A mentor gives you advice and helps you think things through. But if you really want to advance your career, you need is a well-respected person who will go out of his or her way to help you succeed.
Pay it forward. I've been given opportunities throughout my career. The most joyful part for me in my job is when I help someone along.
Dream Big. Don't put limits on what you can achieve.