The Leadership Lectures: Roddy Chong
The Leadership Lectures feature world-class, accomplished and influential leaders with expertise ranging from business and philanthropy to public service and academic research. Through the Lectures we hope to allow our community to have access to the expertise, advice and best practices of some the world's foremost leadership minds and so the lectures are free and open to the public.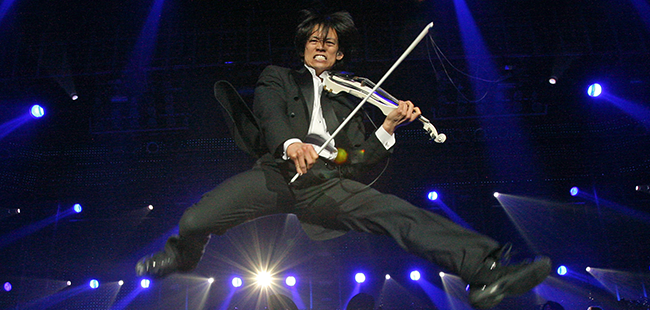 Lecture
About the lecture

In life and business we all do performances every day, but not all performances get the elusive "standing ovation" types of results. There are ways of doing performances that are full of life as opposed to doing performances that seem boring. Having received many years of direct coaching from some of the greatest performing arts teachers in Chicago and Hollywood, Roddy Chong has also tested these principles and techniques on thousands of stages around the world. He consistently produces tour de force performances as a virtuoso violinist with notable figures such as Shania Twain, Celine Dion, and the Trans-Siberian Orchestra; as well as dominating arena stages as a speaker for NASA, Amway, Chick-Fil-A, and 10X Growth Conference.

Roddy Chong will reveal performance principles through his narrative and teaching such as: what to do when you come across a mistake during a performance, how to best prepare for an especially important performance, and how to know if advice given to you on performing is accurate. Attendees will take away unique and proven revelations on how to effectively perform and garner desired, "standing ovation" results.

Date

Wednesday, January 23, 2019
Presenter
Roddy Chong

Roddy Chong is a remarkably accomplished Asian American violinist and speaker known for his high-energy performances with many of the music industry's most recognized acts. He is considered to be one of the world's premier violinists. For a season, Roddy toured with Shania Twain and Celine Dion at the same time. He has performed for audiences around the world, including the President of the United States, the Queen of England, the Pope, Oprah and countless other notable figures.

However, Roddy's real resume begins with the pursuit for accelerated life performance, purpose, and a mission to help others push the boundaries of potential. Leveraging a long personal history of "beating the odds," Roddy's early career exposed him to the real meaning of determination. Typical rock bands weren't posting jobs for Chinese violin players and country music acts weren't exactly recruiting either. As he climbed over each hurdle, he soon found himself realizing that his unique presence was, in fact, a selling point. However, simply getting bands to allow him to audition required perseverance and a dedication to mastery. Roddy knew that when he played the violin, it had to be the only performance they would remember.

As Roddy's music career progressed, so did opportunities for him to share the lessons he had learned along the way. He not only found himself performing on stages with legendary musicians and in front of international audiences, but he also became a sought-after speaker. Organizations and corporations were looking to find new ways to motivate stifled employees. Roddy, determined as always, saw the opportunity to share his knowledge with people who may be facing their own hurdles, performance anxieties, or misguided perceptions about true potential. By intertwining artistic abilities, creativity, and a passionate attitude with the intellect, Roddy has crystallized a speaking experience that has never been witnessed before.

"Look around your career and your life. That's your audience. Your boss, your coworkers, your friends and family. They have expectations. But meeting expectations won't generate massive applause. We need to play bigger." - Roddy Chong

Still touring occasionally with various bands such as Trans-Siberian Orchestra and Kevin Costner & Modern West, Roddy now spends most of his time speaking to organizations, executive teams, employee groups, and conference audiences around the world.
---
The Leadership Lectures are presented with the generous support of Amerant Bank.

We would also like to thank our university partner, FIU Honors College for their support.

In an effort to optimize participation in our lectures we strongly urge you to register online to reserve your place and arrive early to claim your seat. While we are unlikely to turn anyone away, we are limited to the capacity of the lecture rooms and event spaces. Many thanks in advance for your understanding and cooperation.