The Leadership Lectures: Mary C. Gentile, Ph.D.
About the Lecture
Mary C. Gentile, Ph.D. will explain the rationale and principles behind this empowering approach, and discuss how it has been used by educators and practitioners in well over 150 pilot sites across the globe, in order to transform the foundational assumptions of business ethics education and to equip future business leaders to not only know what is right — but how to make it happen.
About the Speaker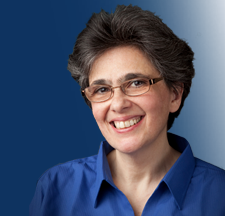 Mary C. Gentile, Ph.D., is Senior Research Scholar at Babson College; Senior Advisor, Aspen Institute Business & Society Program; and an independent consultant. Previously Gentile was a faculty member and manager of case research at Harvard Business School.
Giving Voice to Values (GVV) is an innovative approach to promoting a higher level of integrity in education and the workplace, pioneered by former Harvard Business School faculty Dr. Mary C. Gentile. Launched by The Aspen Institute and the Yale School of Management, GVV is now housed and funded by Babson College. Drawing on actual experience as well as scholarship, GVV fills a long-standing and critical gap in the development of values-centered leaders.
GVV is not about persuading people to be more ethical. Rather GVV starts from the premise that most of us already want to act on our values, but that we also want to feel that we have a reasonable chance of doing so effectively and successfully. This curriculum is about raising those odds.
GVV's goal is to both build a conversation across the core curriculum (not only in ethics courses) — and provide the teaching aids and curriculum for — a new way of thinking about ethics education. Rather than a focus on ethical analysis, the Giving Voice to Values (GVV) curriculum focuses on ethical implementation and asks the question: "What if I were going to act on my values? What would I say and do? How could I be most effective?"
When
Wednesday, February 8, 2012 11:00 a.m.
Where
FIU College of Business Complex (CBC 232)
Modesto A. Maidique Campus
11200 SW 8 Street, Miami, Florida 33199
---
The Leadership Lectures are presented with the generous support of Mercantil Bank.

In an effort to optimize participation for our lectures, we often overbook knowing that cancellations will effect attendance. As such, we strongly urge you to register online to reserve your place, but also that you arrive early to claim your seat. While we are unlikely to turn anyone away, we are limited to the capacity of the lecture rooms and event spaces. Many thanks in advance for your understanding and cooperation.