The Leadership Lectures: Manfred F. R. Kets de Vries, D.B.A.
About the Lecture
Organizations are like automobiles. They don't run themselves, except downhill. They need people to make them work. And not just any people, but the right people. The effectiveness of an organization's employees—particularly individuals in leadership positions – determines how the organizational "machine" will perform. What distinguishes great organizations from mediocre ones are the attitudes of its people!
Organizations that will set the standard in the twenty-first century have leaders who will get the best out of their people because the people believe that their leaders are authentic, their colleagues are trustworthy, and their work is meaningful.Leaders must be challenged to create organizations where a coaching culture prevails; where employees possess a solid dose of emotional intelligence; and where everyone feels able to have courageous conversations. Working in such organizations will make for greater job satisfaction, higher employee retention, increased creativity, and reduced organizational stress, and will contribute to a more fulfilling life.
About the Speaker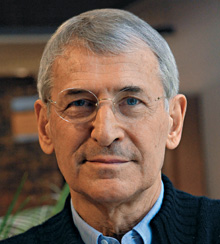 Manfred F. R. Kets de Vries holds the Raoul de Vitry d'Avaucourt Chair of Leadership Development at INSEAD, France, Singapore and Abu Dhabi, and is the Founder of INSEAD's Global Leadership Center. Dr. de Vries provides a different view to the much-studied subjects of leadership and the dynamics of individual and organizational change. Bringing to bear his knowledge and experience of economics, management, and psychoanalysis, he scrutinizes the interface between international management, psychoanalysis, psychotherapy, and dynamic psychiatry. His specific areas of interest are leadership development, top executive team building, organizational change and cross-cultural management. He received his Ph.D. in Economics at the University of Amsterdam, and his ITP, M.B.A., and D.B.A. from Harvard Business School.
When
Friday, November 16, 2012 9:00 a.m.
Where
FIU College of Law Main Courtroom (RDB1000)
Modesto A. Maidique Campus
11200 SW 8 Street, Miami, Florida 33199
---
The Leadership Lectures are presented with the generous support of Mercantil Bank.

In an effort to optimize participation for our lectures, we often overbook knowing that cancellations will effect attendance. As such, we strongly urge you to register online to reserve your place, but also that you arrive early to claim your seat. While we are unlikely to turn anyone away, we are limited to the capacity of the lecture rooms and event spaces. Many thanks in advance for your understanding and cooperation.