The Leadership Lectures: James O' Toole, Ph.D.
About the Lecture
Professor James O' Toole will speak on "Creating a Culture of Candor." Based on his work with leadership icon Warren Bennis, Dr. O'Toole will discuss why no organization can be honest with the public if it is not honest with itself. He will show why candor is more difficult to achieve than is readily evident because individuals hoard information and engage in groupthink. Worse, they tell their bosses what they think they want to hear, and ignore facts staring them in the face.
To counter these tendencies leaders need to make a conscious decision to create cultures of candor. O'Toole will address what leaders do to promote the levels of transparency in their organizations needed to encourage innovation, adaptability, and ethical behavior.
About the Speaker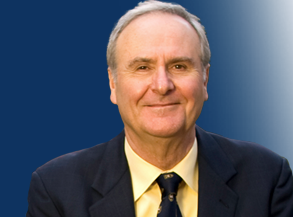 James O'Toole is the Daniels Distinguished Professor of Business Ethics at the University of Denver's Daniels College of Business.
Previously, at the University of Southern California's business school he held the University Associates' Chair of Management, served as Executive Director of the Leadership Institute, and editor of New Management magazine.
O'Toole's research and writings have been in the areas of leadership, philosophy, ethics, and corporate culture. He has addressed dozens of major corporations and professional groups, and has over one hundred published articles. Among his sixteen books, Vanguard Management was named "One of the best business and economics books of 1985" by the editors of Business Week. His latest books are Creating the Good Life (2005), The New American Workplace (with Edward Lawler, 2006), Transparency (with Warren Bennis and Daniel Goleman, 2008) and Good Business (editor, with Don Mayer, 2010).
O'Toole received his Doctorate in Social Anthropology from Oxford University, where he was a Rhodes Scholar. He served as a Special Assistant to Secretary of Health, Education and Welfare, Elliot Richardson, as Chairman of the Secretary's Task Force on Work in America, and as Director of Field Investigations for President Nixon's Commission on Campus Unrest. He has served on the Board of Editors of the Encyclopedia Britannica, and as editor of The American Oxonian magazine. From 1994-97 O'Toole was Executive Vice President of the Aspen Institute, and later, Mortimer J. Adler Senior Fellow at the Institute. He also has served as Chair of the Booz/Allen/Hamilton Strategic Leadership Center.
O'Toole has won a Mitchell Prize for a paper on economic growth policy. Recently, he was named one of the "100 most influential people in business ethics" by the editors of Ethisphere, one of "the top 100 thought leaders on leadership" by Leadership Excellence magazine, and author of one of the "hundred most influential business articles by the editors of Strategy+Business.
When
Tuesday, April 10, 2012 11:00 a.m.
Where
FIU College of Business Complex (CBC 232)
Modesto A. Maidique Campus
11200 SW 8 Street, Miami, Florida 33199
---
The Leadership Lectures are presented with the generous support of Mercantil Bank.

In an effort to optimize participation for our lectures, we often overbook knowing that cancellations will effect attendance. As such, we strongly urge you to register online to reserve your place, but also that you arrive early to claim your seat. While we are unlikely to turn anyone away, we are limited to the capacity of the lecture rooms and event spaces. Many thanks in advance for your understanding and cooperation.