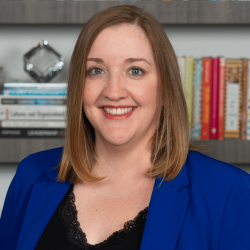 ASSOCIATE DIRECTOR

EMAIL: hansons@fiu.edu

Florida International University
Center for Leadership
11200 SW 8 ST, MARC 410
Miami, FL 33199
Phone: 305-348-5323
Shannon A. Hanson is the Associate Director for the Center for Leadership at Florida International University (The Center).
In this role, Shannon is responsible for the development and management of new and ongoing initiatives geared towards the continuous advancement and growth of The Center. She provides strategic management of key areas for The Center, including new growth opportunities, advancement initiatives, programs and events, and program recruitment. She is also responsible for engaging and collaborating with external community stakeholders and partners, developing new programs, and expanding The Center's footprint in leadership development for educational leaders.
Prior to her current role, Shannon served as The Center's Assistant Director for two years. In that role, she was responsible for providing administrative oversight for all programs and events, marketing and outreach, new media, and program recruitment. She also served as the liaison for The Center's Board of Advisors, a community board that provides guidance and counsel to advance the growth and further the mission of The Center. Shannon has also served as The Center's Program Manager, where she worked with all Center programs and events, which included open-enrollment and custom programs, The Leadership Lecture Series, and various workshops and community collaborations.
Prior to serving as Program Manager, Shannon worked as the Executive Assistant to President Emeritus Modesto Maidique who served as the Founding Executive Director for The Center. Shannon joined The Center in April 2011 as the Program Coordinator for the Principals Leadership Development Program (PLDP) and was responsible for managing the curriculum of PLDP and all related program logistics.
Shannon comes to The Center with a background in coordinating and developing training programs, project management, administrative support, and human resources. She has worked for the federal government and in private sector industries including law, training and education, and government consulting.
Shannon is currently a Ph.D. candidate in Public Affairs with a research focus in educational policy and public sector leadership at Florida International University. She received her Master of Business Administration in Human Resource Management in 2011 and holds a Bachelor of Business Administration in International Business from Florida International University.