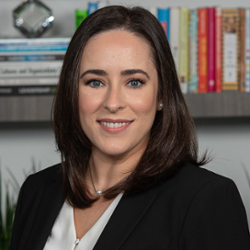 PROGRAM MANAGER
EMAIL: jmsotoma@fiu.edu
Florida International University 
Center for Leadership 
11200 SW 8 ST, MARC 410 
Miami, FL 33199 
Phone: 305-348-5323
Jessica M. Sotomayor is the Program Manager for the Center for Leadership at Florida International University (The Center). Jessica joined The Center in September 2017 and her primary role is to provide strategic guidance and direction on new and ongoing programs and events. She also manages the day-to-day operations and objectives of The Center's programs and events, which include The Center's open-enrollment and custom programs, The Leadership Lecture Series, and various workshops and community collaborations.
Prior to joining The Center, Jessica was a Senior Program Manager at the Earth Institute at Columbia University in New York where she provided faculty support, event logistics, fiscal management, and academic guidance for the undergraduate Sustainable Development program. While at Columbia, she also managed the Earth Institute's student programs, which entailed recruiting and appointing teaching assistants, interns, research assistants and travel grant recipients. She previously worked at FIU's College of Business from 2002-2011 holding various positions, the latest being Program Manager in the Executive and Professional MBA program.
She holds a Bachelor of Arts in Political Science and a Master of Science in Human Resource Management, both from Florida International University.