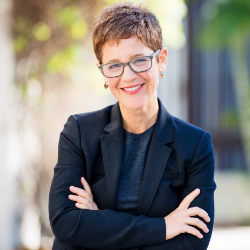 ASSOCIATE DIRECTOR, OFFICE OF GLOBAL LEARNING INITIATIVES, FLORIDA INTERNATIONAL UNIVERSITY
Stephanie Doscher is founding Associate Director of FIU's institution-wide Global Learning for Global Citizenship initiative, winner of the 2016 IIE Andrew Heiskell Award for Campus Internationalization. She also serves as Program Evaluator for the university's Title VI-funded Kimberly Green Latin American and Caribbean National Resource Center. 
Stephanie's work focuses on organizational leadership and strategic planning, professional development, and integrative curricular and co-curricular design to enable global learning for all. Her research interests concern the relationship between global learning, diversity, and inclusive excellence. Stephanie advises a wide range of colleges and universities and presents engaging workshops for faculty and staff on methods for realizing their unique visions for transformative global learning. Her forthcoming book, co-authored with Hilary Landorf and Jaffus Hardrick, is titled Making Global Learning Universal: Promoting Inclusion and Success for All Students (Stylus, December 2017).
Stephanie holds an Ed.D. in Educational Leadership and Administration from FIU, an M.Ed. in Secondary Education from Western Washington University, and a B.A. in History from Emory University. Prior to transitioning to higher education in 2008, Stephanie taught middle grade English and Drama in Eugene, Oregon and Miami, Florida, serving also as department chair and on multiple district- and statewide curriculum development committees.