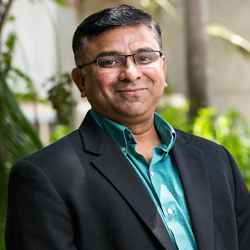 ASSOCIATE PROFESSOR
DEPARTMENT OF GLOBAL LEADERSHIP AND MANAGEMENT 
COLLEGE OF BUSINESS
FLORIDA INTERNATIONAL UNIVERSITY
Ravi Gajendran is an Associate Professor in the Department of Global Leadership and Management at Florida International University. Prior to joining FIU, Dr. Gajendran worked as an Assistant Professor of Business Administration in the College of Business at the University of Illinois at Urbana-Champaign.
Dr. Gajendran's research interests include virtual work arrangements such as telecommuting, virtual teams, distributed teams and computer-mediated communication. He has a broad interest in studying teams, with a focus on how teams can leverage communication technologies to capitalize on diversity. His work has been published in Harvard Business Review, the Journal of Applied Psychology, and Personnel Psychology.
He received his Ph.D. in Organizational Behavior from Pennsylvania State University and holds an M.B.A. from IIM Calcutta and an undergraduate engineering degree from Osmania University.
Prior to receiving his Ph.D., Dr. Gajendran worked in the business industry for more than six years in sales, marketing, and market research. He held positions at Procter and Gamble and Cadburys India Limited.