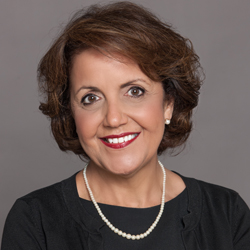 JOHN S. AND JAMES L. KNIGHT RESEARCH FELLOW
CHAIR, EDUCATION PROGRAMS
CENTER FOR LEADERSHIP AT FIU
FLORIDA INTERNATIONAL UNIVERSITY
Dr. Beers is the John S. and James L. Knight Research Fellow and Education Programs Chairs for the Center for Leadership at Florida International University (FIU). She holds M.A. and Ph.D. degrees from FIU and her work has been recognized with numerous awards including the prestigious James R. Scobie Memorial Award, the Jay I. Kislak Foundation Prize, and a Mellon Foundation Fellowship, and numerous best paper awards, among others. Dr. Beers also holds Certificates in African New World Studies and Latin American and Caribbean Studies. She has presented her work at several prestigious venues including the Carolingian University in Prague, the American Historical Association (AHA), The Carnegie Center for the Advancement of Teaching, and the Latin American Studies Association (LASA). 
A founding member of the Center for Leadership, Dr. Beers served as Director of Strategy and Operations until her retirement in 2019. She was instrumental in the development and implementation of numerous executive leadership development programs and workshops including The Senior Executive Leaders Program, The Women Leaders Program, The High-Impact Leadership Program, and the Principals Leadership Development Program. She developed and was the primary facilitator for The Center's first leadership development program offered in a foreign country in Spanish, presented to Walmart executives in Puerto Rico. In collaboration with Dr. Joyce Elam, Dr. Beers worked on the "Florida's Woman-Led Businesses Study," (2006-2011), a five-year report on the challenges and successes of women who lead major organizations in Florida. Dr. Beers' work has been published in Cuban Studies, and she is a contributing author to The Fragmented University (Jossie-Bass).
Dr. Beers previously served as Chief of Staff for FIU President Modesto A. Maidique and as Director of Operations and Founding Associate Corporate Secretary for the FIU Board of Trustees from 2001 until 2009. Prior to her work in the Office of the President, she was a Research Associate for the University President and Provost.
Dr. Beers is an active lifelong volunteer for numerous causes and especially for education-related activities. She was born in Havana, Cuba and currently resides in Miami. She and her husband, Randy, have two sons.