Kaihan Krippendorff, Sci.D.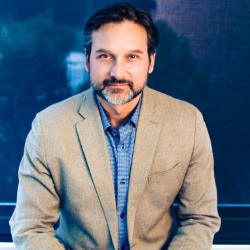 BUSINESS STRATEGIST, AUTHOR AND CONSULTANT
Dr. Kaihan Krippendorff is a top business strategy speaker and author of multiple business books, most recently Outthink the Competition (John Wiley & Sons). He is the founder of Outthinker, a popular blogger, and a sought-after strategic advisor to a growing roster of leading businesses and corporations that recognize the need to move away from traditional linear models to embrace agile, digital strategies for the accelerating world. His clients include ABC TV, AIG, BNY Mellon, Citibank, Pershing, TIAA, Realogy, Microsoft, VM Ware, and Johnson & Johnson. 
Nobel Peace Prize winner Mohammad Yunus said, "Kaihan shows that with a compelling idea anyone can change the world." This message has made Kaihan one of the most in-demand business strategy speakers in the world.
His keynote clients over the past year have included the Consumer Electronics Association, National Association of Federal Credit Unions, Harvard Business Review, Wharton Business School, National Restaurant Association, Produce Marketing Association, FORTUNE Growth Summit, Young Presidents' Organization, Entrepreneurs' Organization, Institute for Management Studies, American Gear Manufacturers Association, Precision Machined Products Association, American Bar Association, and Metals Service Center Institute.
Kaihan is a consultant with Wharton Executive Education, faculty member of Florida International University, teacher of design strategy at Parsons School of Design, and a lecturer at business schools throughout the US and internationally.
Kaihan has been featured in key business media outlets, including BusinessWeek, Harvard Business Review, Forbes, Time, Fox Business, Fast Company, PBS, and Bloomberg Radio.
He earned a Master of Business Administration at Columbia Business School, a Bachelor of Science in finance from Wharton Business School, a Bachelor of Science in mechanical engineering from the University of Pennsylvania, and holds a Doctorate of Science in Economics.
With a mother from Bangladesh and a father from Germany, Kaihan brings a holistic, global perspective to his topics of business strategy, strategic thinking, and innovation. He speaks three languages and has lived or spent significant periods of time in Asia, Africa, Latin America, Europe, and the Pacific. He lives in Greenwich, Conn., with his wife and three children.