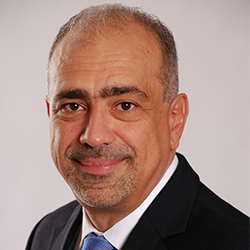 Dr. Guillermo Wated is a Professor of Psychology at Barry University in Miami, Florida. He earned his M.B.A. degree in marketing and international business from the University of Miami, and his Ph.D. in Industrial and Organizational Psychology from Florida International University. He has developed a research program specifically related to the areas of ethical behavior in organizations, attitudes toward work, and student retention and perceptions of employability.  The program has generated more than 70 peer-reviewed journal articles (including publications in high-impact referred journals such as the Journal of Business Ethics, Group and Organization Management and International Journal of Stress Management), book chapters, and conference presentations at national and international venues. 
Dr. Wated has also served as reviewer for multiple journals including the Academy of Management Journal, Journal of Business Ethics, Group and Organization Management, Journal of Occupational and Organizational Psychology, Journal of Business and Psychology, Journal of Management Studies and the International Journal of Stress Management. Professor Wated served as Chair of the Education and Training Committee of the Society for Occupational and Health Psychology, Councilor for the Council on Undergraduate Research, Chair of the Awards Committee for the Psychology Division of the Council on Undergraduate Research, and Chair of the Social Sciences Section of the Florida Academy of Sciences.  Furthermore, he has served as a Faculty Senator and the Co-Chair of the Ethics Committee at Barry University as well as Chair of the Department of Psychology Undergraduate Research Curriculum Development Committee and coordinator of the Industrial/Organizational Psychology specialization track for Barry University's Psychology Department.
Dr. Wated is also an experienced Executive Coach, having coached business, community, and education leaders for the Center for Leadership at FIU since 2010. His consulting experience includes multinational as well as public organizations in the areas of business process redesign, leadership development, testing, and data collection and analysis. Dr. Wated is fluent in English, Spanish and German.