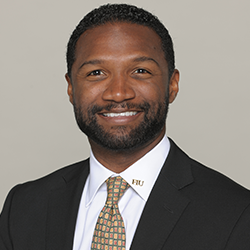 DIRECTOR OF MARKETING AND BUSINESS DEVELOPMENT
FIU ONLINE
Garth D. Headley is Director of Marketing and Business Development for FIU Online Web-Based Courses at Florida International University in Miami. In this capacity, he develops and creates new ways to showcase and generate interest in the university's fully online program and course offerings. Included in his 12-year career with FIU, Garth also served as Director of Research Advocacy in the Office of Research and Economic Development for two years before joining FIU Online.
Garth was a founding staff member of the Center for Leadership at FIU, joining in September 2007, with operational responsibility for all Center research, budgets, human resources, marketing, and the development and delivery of The Center's executive leadership programs. He was instrumental in the development of The Center's current flagship programs: The Senior Executive Leaders Program, offered annually for company Presidents and CEOs; The High-Impact Leadership Program, for director level executives; and the highly successful The Women Leaders Program. As The Center grew and continued to engage in executive leadership education and research, collaborating with university faculty and graduate students, Garth's responsibilities evolved to focus on the development of The Center's e-media presence and the marketing and promotion of all Center activities, while still retaining operational responsibilities.
Prior to joining The Center, Garth was Area Manager for French Connection, United Kingdom, a major high-street fashion retailer in Europe. There he was responsible for recruiting, staffing and training of employees for franchise stores across England. He has also worked with Citibank, Jamaica, as a Foreign Exchange Trader for Western Jamaica, with responsibilities for all local and international transactions.
Garth is an alumnus of FIU where he completed his graduate degree in Industrial and Organizational Psychology. He earned his Bachelors from the University of the West Indies, Mona, with a concentration in Management Studies and Psychology and also leverages professional development received from leading academic institutions such as Harvard Business School, Wharton, and Ross School of Business at the University of Michigan. He is a graduate of the Greater Miami Chamber of Commerce's Leadership Miami project (Class of 2010) and an honored member of the Cambridge Who's Who, a member of the Society of Industrial and Organizational Psychologists and the Academy of Management.