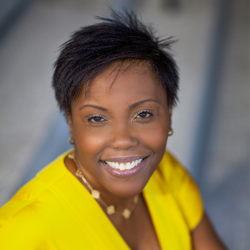 FACILITATOR AND EXECUTIVE COACH
For 20 years, Ebony Smith worked in the Fortune 100 for Ryder, Sunoco Logistics, BP Integrated Supply and Trading, and World Fuel Services. As an executive coach who has spent her entire career in risk management, Ebony views leadership development through a full spectrum lens. Ebony started in operational risk management as a Health & Safety advisor. She pivoted into financial risk management working on a derivatives trading desk. Today, Ebony works in transformational risk management partnering with clients to develop leadership resilience and to design foresight strategies for deployment.
After 13 years on the oil trading floor, Ebony brings a straightforward and honest approach to transformational leadership development for leaders. Ebony understands the needs of left-brain-leaders and created an equation to uncover and highlight their unique leadership style and acumen. Leaders research ideas, thoughts, and processes to acquire knowledge on the topics, but rarely integrate the information into everyday action. Ebony's goal is to get her audience to build better relationships because when people are engaged the profits, processes, and productivity flow easily.
Ebony has a BS in Chemistry from Jefferson in Philadelphia and a MS Environmental Protection and Safety Management from St. Joseph's University of Philadelphia. Ebony is designated a Professional Certified Coach (PCC) by the International Coach Federation (ICF). She founded the ICF certified Ebenum Leadership Academy to train leaders to become coaches. She is also a faculty at Florida International University's Center for Leadership.