The Leadership Lectures: Rosabeth Moss Kanter, Ph.D.
The Leadership Lectures feature world-class, accomplished and influential leaders with expertise ranging from business and philanthropy to public service and academic research. Through the Lectures we hope to allow our community to have access to the expertise, advice and best practices of some the world's foremost leadership minds and so the lectures are free and open to the public.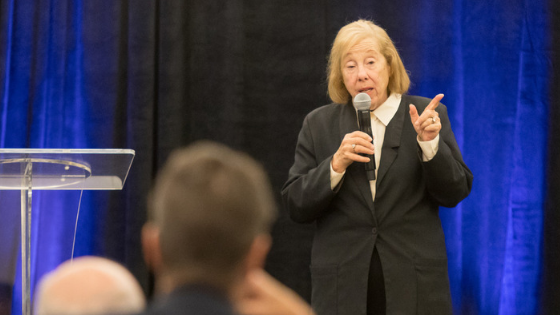 Lecture
About the lecture

What Great Organizations Do Differently
Great organizations must be adaptive, flexible, innovative, and resilient. They master change while maintaining a sense of enduring purpose beyond the purely financial. They have the ability to find and learn from partners, and a culture of empowerment that encourages imagination and initiative. This kind of culture and leadership is particularly well suited to the digital age, in which old models are disrupted frequently, and new tools are available

Date

Tuesday, January 14, 2014
Presenter
Rosabeth Moss Kanter, Ph.D.

Rosabeth Moss Kanter, Ph.D. holds the Ernest L. Arbuckle Professorship at Harvard Business School, where she specializes in strategy, innovation, and leadership for change. Her strategic and practical insights have guided leaders of large and small organizations worldwide for over 25 years, through teaching, writing, and direct consultation to major corporations and governments.

The former Editor of Harvard Business Review (1989-1992), Professor Kanter has been repeatedly named to lists of the "50 most powerful women in the world" (Times of London), and the "50 most influential business thinkers in the world" (Thinkers 50).

In 2001, she received the Academy of Management's Distinguished Career Award for her scholarly contributions to management knowledge; and in 2002 was named "Intelligent Community Visionary of the Year" by the World Teleport Association, and in 2010 received the International Leadership Award from the Association of Leadership Professionals. She is the author or co-author of 18 books. Her latest book, SuperCorp: How Vanguard Companies Create Innovation, Profits, Growth, and Social Good, a manifesto for leadership of sustainable enterprises, was named one of the ten best business books of 2009 by Amazon.com.
---
The Leadership Lectures are presented with the generous support of Amerant Bank.

We would also like to thank our university partner, FIU Honors College for their support.