The Leadership Lectures: Robert Kegan, Ph.D.
The Leadership Lectures feature world-class, accomplished and influential leaders with expertise ranging from business and philanthropy to public service and academic research. Through the Lectures we hope to allow our community to have access to the expertise, advice and best practices of some the world's foremost leadership minds and so the lectures are free and open to the public.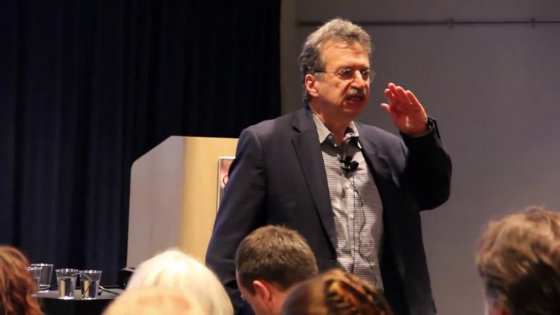 Lecture
About the lecture

Award-winning scholar, Harvard professor Robert Kegan will share with us what he has learned from thirty years of studying the potential for ongoing mental development in adulthood.

Just a generation ago, brain scientists told us emphatically that there were no significant developments after our twenties, and any "wisdom" associated with aging was the result of experience rather than the qualitative shifts in mental complexity we see in childhood and adolescence. Meanwhile, developmental psychologists like Kegan and his colleagues thought they were seeing something quite different in their careful longitudinal studies. Today even the hard scientists have recanted their dogmas.

What are the implications of adult development for the way we parent, partner, work, lead, and participate in a diverse and complex world? Through a combination of concept, story, and visual representation, Professor Kegan will bring us into a lifetime of fascinating research.

Date

Tuesday, October 18, 2011
Presenter
Robert Kegan, Ph.D.

Robert Kegan is the William and Miriam Meehan Professor of Adult Learning and Professional Development at the Harvard University Graduate School of Education. The recipient of numerous honorary degrees and awards, his thirty years of research and writing on adult development have influenced the practice of leadership development, executive coaching, and change management throughout the world.

At Harvard alone, he is regularly asked to teach in executive development programs in the Schools of Business, Government, Education, and Medicine. His seminal books, The Evolving Self, In Over Our Heads, The Way We Talk, and Immunity to Change have been published in many languages. One of twenty–among Harvard's 2300 faculty–honored by the president of the university for his outstanding teaching, Bob has been on the faculty of the World Economic Forum's Davos Conference and had his work featured in the January 2009 issue of Oprah.

This fall he was the only thought-leader in the world asked to speak at all three premier conferences devoted to executive development: the Harvard Coaching Conference, the International Leadership Association Conference, and the International Coaching Federation Conference.

For the past several years, Bob has served as a trusted advisor to CEOs in the private and public sectors in the US, South America, Europe, and Asia. A husband, father, and grandfather, he is also an avid poker player, an airplane pilot, and the unheralded inventor of the "Base Average," a superior statistic for gauging offensive contribution in baseball.
---
The Leadership Lectures are presented with the generous support of Amerant Bank.

We would also like to thank our university partner, FIU Honors College for their support.