The Leadership Lectures: Rizal Bragagnini
About the Lecture
The 5Es in Leadership
Explain, through personal experiences, how effective leaders balance the 5Es:
Envision: imagine the "possible" future – to change the rules of the game
Engage: gain the enrolment and commitment of the team
Energize: inspire people to deliver the future
Enable: build people's capabilities to achieve better results
Execute: make things happen through Strategy, People and Operations.
Participants leave inspired with simple, but potent, leadership concepts which can enable "anyone" to be a leader (when required).
About the Speaker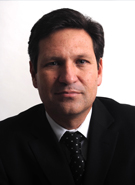 Rizal Bragagnini has over 25 years of professional experience leading a wide range of businesses in different sectors and countries. He worked 14 years for Procter & Gamble Latin America in areas such as: Finance, Marketing, Innovation and General Management. He then served as General Manager for Cadbury Adams Peru & Bolivia, until it was acquired by Kraft. When he took the challenge to lead San Fernando, a family-owned poultry company in Peru, as its first independent CEO, we doubled the business in 5 years and won 5 Effie Awards in 3 years. His latest position was CEO of a leading Peruvian healthcare corporation, Quicorp – Quimica Suiza Group, which has annual revenues in excess of $1.4 billion US.
Mr. Bragagnini is founder and CEO of his own firm (RBO Consulting) and has participated in various Boards of Directors; e.g. Peru 2021, Quicorp, San Fernando, APECOM, among others. He is a graduate of the Kellogg School of Management's CEO Program and P&G University's in-house MBA program. He holds a degree from Pontificia Universidad Católica del Peru in Industrial Engineering and has taught at several institutions, including Universidad del Pacífico, Procter & Gamble, Pontificia Universidad Católica del Peru and IESA Venezuela. He has also coached and developed top talent who have attained leading roles in world class companies.
When
Thursday, March 3, 2016 at 9:30 a.m.
Where
Graham Center Ballrooms, Florida International University
Modesto A. Maidique Campus
11200 SW 8 Street, Miami, Florida 33199
---
The Leadership Lectures are presented with the generous support of Mercantil Bank.

In an effort to optimize participation for our lectures, we often overbook knowing that cancellations will effect attendance. As such, we strongly urge you to register online to reserve your place, but also that you arrive early to claim your seat. While we are unlikely to turn anyone away, we are limited to the capacity of the lecture rooms and event spaces. Many thanks in advance for your understanding and cooperation.