The Leadership Lectures: R. Kerry Clark
About the Lecture
Lessons in Life, Business and Leadership
Kerry Clark retired as Chairman and Chief Executive of Cardinal Health as his two daughters were beginning their own business careers. Reflecting on his life growing up in Canada as a son of a dairy owner, a 32 year career with Procter and Gamble in Canada, Japan and the US, and 4 years at Cardinal Health, Kerry passes on his key lessons for life and business.
About the Speaker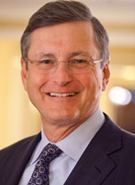 R. Kerry Clark is the Retired Chairman and Chief Executive Officer of Cardinal Health (NYSE: CAH). He is currently a director of Avnet (NYSE: AVT), General Mills (NYSE: GIS) and Textron (NYSE: TXT). He is also a partner at Hauser Private Equity, LLC.
Clark joined Cardinal Health (NYSE:CAH) in April 2006 as CEO and was appointed Chairman the following year. Under his leadership, the company expanded its opportunity to help hospitals, pharmacies and clinicians make the practice and delivery of healthcare safer and more productive. To further increase management and strategic focus, Cardinal Health's clinical and medical products business was spun off as a publicly traded company called CareFusion (NYSE: CFN). Following this transaction, Clark retired from Cardinal Health in September 2009.
Prior to joining Cardinal Health, Clark was Vice Chairman of the Board and a director of the Procter and Gamble Company (NYSE: PG). During his 32-year career with P&G, Clark had considerable strategic, operational and corporate management responsibilities for several businesses, including laundry and cleaning products, family health and global operations. He also held leadership positions in North America and Asia.
Clark is currently on the boards of the Christ Hospital of Cincinnati, the Elizabeth Gamble Deaconess Home Association and the Cincinnati Zoo Foundation. He is also a founding director of the Global BrightLight Foundation and a member of the Council of Chief Executives. He is a former member of the Business Council, the Healthcare Leadership Council, the Ohio Business Roundtable, the Columbus Partnership, the Soap and Detergent Association and former Chairman of the Cincinnati Zoo.
A native of Ottawa, Canada, Clark graduated from Queen's University with a Bachelor of Commerce degree.
When
Thursday, January 23, 2014 at 2:00 p.m.
Where
MARC Pavilion, Florida International University
Modesto A. Maidique Campus
11200 SW 8 Street, Miami, Florida 33199
---
The Leadership Lectures are presented with the generous support of Mercantil Bank.

In an effort to optimize participation for our lectures, we often overbook knowing that cancellations will effect attendance. As such, we strongly urge you to register online to reserve your place, but also that you arrive early to claim your seat. While we are unlikely to turn anyone away, we are limited to the capacity of the lecture rooms and event spaces. Many thanks in advance for your understanding and cooperation.