The Leadership Lectures: Phil Rosenzweig, Ph.D.
About the Lecture
Critical Thinking in the Business World: The Halo Effect and the Stuff of Winning Decisions
Critical Thinking in the Business World: The Halo Effect and the Stuff of Winning Decisions In this discussion-style presentation, Professor Rosenzweig will discuss the role of critical thinking in business. He will present the key arguments from The Halo Effect (Free Press, 2007), which identified many of the common errors and mistakes of thinking that pervade the business world. He will also share the key ideas from his latest book, Left Brain, Right Stuff (PublicAffairs, 2014), which takes an original look at current thinking about decision making. Both themes speak to a common need: for managers – and indeed citizens in all walks of life – to think more clearly and more critically, and to make decisions that are free from received wisdom that is often wrong.
About the Speaker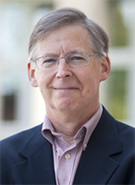 Phil Rosenzweig, Ph.D. is professor of Strategy and International Business at IMD in Lausanne, Switzerland, where he works with leading companies on questions of strategy and organization. He is a native of Northern California, where he worked for Hewlett-Packard. Prior to IMD, he was an assistant professor at Harvard Business School from 1990 to 1996. His PhD is from the Wharton School, the University of Pennsylvania. He is the author of numerous articles in journals including Harvard Business Review, California Management Review, Management Science, and Strategic Management Journal.
His 2007 book, The Halo Effect…and the Eight Other Business Delusions that Deceive Managers, was described by the Wall Street Journal as "a trenchant view of business and business advice" and lauded by Nassim Nicholas Taleb as "one of the most important management books of all time." His new book, Left Brain, Right Stuff: How Leaders Make Winning Decisions, takes a fresh look at decision making and decision research, building on recent findings from cognitive psychology and extending them into the world real world management.
When
Tuesday, April 8, 2014 – 9:30 a.m.
Where
MARC Pavilion, Florida International University
Modesto A. Maidique Campus
11200 SW 8 Street, Miami, Florida 33199
---
The Leadership Lectures are presented with the generous support of Mercantil Bank.

In an effort to optimize participation for our lectures, we often overbook knowing that cancellations will effect attendance. As such, we strongly urge you to register online to reserve your place, but also that you arrive early to claim your seat. While we are unlikely to turn anyone away, we are limited to the capacity of the lecture rooms and event spaces. Many thanks in advance for your understanding and cooperation.