The Leadership Lectures: Noel M. Tichy, Ph.D.
About the Lecture
A Conversation with Dr. Noel Tichy
The FIU Center for Leadership is pleased to present the next in The Leadership Lectures series, "A Conversation with Dr. Noel Tichy." In this discussion-style presentation, hosted by FIU President Emeritus Mitch Maidique, Dr. Tichy will share insights on his latest book, "Judgment on the Front Line: How Smart Companies Win by Trusting their People," (co-authored with Dr. Chris DeRose, 2012) which draws from his decades of leadership practice and research. In this new book, Tichy and DeRose provide insight on how to build a front-line focused organization with examples from leading companies such as Amazon, Zappos, and Ritz-Carlton. Tichy describes how front-line associates have unique insight into their customers, the competition, and the inner workings of their organizations. He urges leaders to learn from their front-line associates by empowering this underutilized source of talent and creativity to solve problems, and ultimately create more successful organizations.
About the Speaker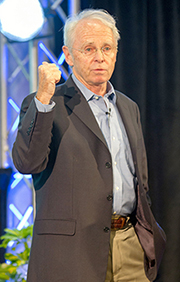 Dr. Noel M. Tichy is a Professor of Management & Organizations at the Ross School of Business at the University of Michigan. In the mid 1980s, Dr. Tichy was head of GE's Leadership Center, the fabled Crotonville, where he led the transformation to action learning at GE. Between 1985 – 1987, Dr. Tichy was Manager of Management Education for General Electric where he directed its worldwide development efforts at Crotonville. Prior to joining the Michigan faculty, he served for nine years on the Columbia University Business School faculty. Dr. Tichy is the author of numerous books and articles; his most recent book is JUDGMENT ON THE FRONT LINE: How Smart Companies Win by Trusting Their People co-authored with Chris DeRose. Tichy has long been regarded as a staple of management literacy as noted by his rating as one of the "Top 10 Management Gurus" by BusinessWeek and Business 2.0. He has served on the editorial boards of the Academy of Management Review, Organizational Dynamics, Journal of Business Research, and Journal of Business Strategy and was the founding editor and chief of HUMAN RESOURCE MANAGEMENT. Noel Tichy consults widely in both the private and public sectors. He is a senior partner in Action Learning Associates. His clients have included: Best Buy, GE, PepsiCo, Coca Cola, GM, Nokia, Nomura Securities, 3M, Daimler-Benz and Royal Dutch Shell.
When
Tuesday, June 04, 2013 3:30 p.m.
Where
College of Business Complex, Special Events Center (CBC 232)
Modesto A. Maidique Campus
11200 SW 8 Street, Miami, Florida 33199
---
The Leadership Lectures are presented with the generous support of Mercantil Bank.

In an effort to optimize participation for our lectures, we often overbook knowing that cancellations will effect attendance. As such, we strongly urge you to register online to reserve your place, but also that you arrive early to claim your seat. While we are unlikely to turn anyone away, we are limited to the capacity of the lecture rooms and event spaces. Many thanks in advance for your understanding and cooperation.