The Leadership Lectures: Julian Marewski, Ph.D.
The Leadership Lectures feature world-class, accomplished and influential leaders with expertise ranging from business and philanthropy to public service and academic research. Through the Lectures we hope to allow our community to have access to the expertise, advice and best practices of some the world's foremost leadership minds and so the lectures are free and open to the public.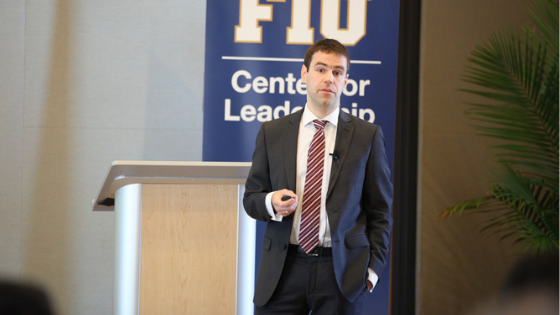 Lecture
About the lecture

Making Smart Decisions Utilizing Simple Strategies

What capabilities enabled the pilots of US Airways flight 1549 to quickly decide that their best bet to save 150 passengers' lives was to attempt an emergency landing in the Hudson River? What is the role of judgmental heuristics in making key decisions when time or information is limited?

It is a widespread belief in psychology, economics and beyond that challenging decision tasks require complex, sophisticated solutions. Countering this common intuition, Dr. Julian Marewski argues that in an uncertain world actually the opposite may be true: Humans do not need complex strategies to make good decisions; rather, it is the very simplicity and robustness of our cognitive repertoire of decision strategies that can turn us into capable decision-makers. These simple decision strategies work well when employed in the right situations and using these strategies can be trained. Relying on computer simulations, mathematical analyses, experimental and field studies, Dr. Marewski illustrates this point for different domains, ranging from business to piloting, medical decision making, and risk communication.

Date

Wednesday, February 23, 2011
Presenter
Julian Marewski, Ph.D.

Julian Marewski is a Research Scientist (Ph.D. Free University Berlin) at the Max Planck Institute for Human Development in Berlin. His research focuses on the mathematical and computational modeling of mechanisms of heuristic decision making, with a special focus on modeling people's behavior in real-world (as opposed to laboratory) settings. He has published journal articles on (i) basic research on heuristic decisions making, (ii) research on how the science of heuristic can aid solving applied problems, as well as (iii) on the methodological aspects of formally modeling heuristic and other mechanism of decision making. Dr. Marewski has received several awards for his research, including the Raimar Lüst Fellowship of the Max Planck Society.
---
The Leadership Lectures are presented with the generous support of Amerant Bank.

We would also like to thank our university partner, FIU Honors College for their support.