The Leadership Lectures: Gerd Gigerenzer, Ph.D.
About the Lecture
His lecture will feature content from the award-winning popular books Calculated Risks: How To Know When Numbers Deceive You, and Gut Feelings: The Intelligence of the Unconscious.
About the Speaker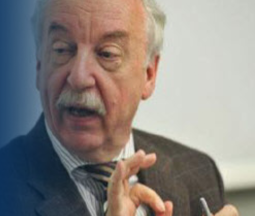 Gerd Gigerenzer is Director at the Max Planck Institute for Human Development in Berlin and former Professor of Psychology at the University of Chicago and John M. Olin Distinguished Visiting Professor, School of Law at the University of Virginia. He is also the director of the Harding Center for Risk Literacy, Berlin, Batten Fellow at the Darden Business School, University of Virginia, and Fellow of the Berlin-Brandenburg Academy of Sciences and the German Academy of Sciences. He won the AAAS Prize for the best article in the behavioral sciences and the Association of American Publishers Prize for the best book in the social and behavioral sciences. 
When
March 29, 2011 from 10:00am – 12:00pm
Where
FIU College of Law Main Courtroom (RDB1000)
Modesto A. Maidique Campus
11200 SW 8 Street, Miami, Florida 33199
---
The Leadership Lectures are presented with the generous support of Mercantil Bank.

In an effort to optimize participation for our lectures, we often overbook knowing that cancellations will effect attendance. As such, we strongly urge you to register online to reserve your place, but also that you arrive early to claim your seat. While we are unlikely to turn anyone away, we are limited to the capacity of the lecture rooms and event spaces. Many thanks in advance for your understanding and cooperation.