The Leadership Lectures: Gerd Gigerenzer, Ph.D.
The Leadership Lectures feature world-class, accomplished and influential leaders with expertise ranging from business and philanthropy to public service and academic research. Through the Lectures we hope to allow our community to have access to the expertise, advice and best practices of some the world's foremost leadership minds and so the lectures are free and open to the public.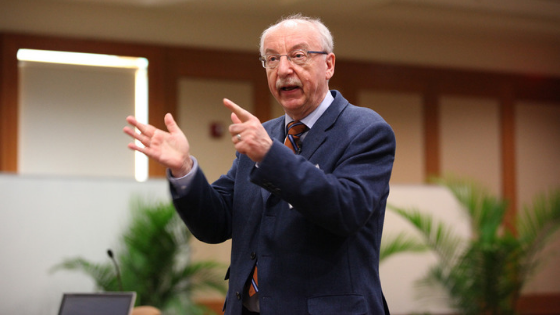 Lecture
About the lecture

His lecture will feature content from the award-winning popular books Calculated Risks: How To Know When Numbers Deceive You, and Gut Feelings: The Intelligence of the Unconscious.

Date
Presenter
Gerd Gigerenzer, Ph.D.

Gerd Gigerenzer is Director at the Max Planck Institute for Human Development in Berlin and former Professor of Psychology at the University of Chicago and John M. Olin Distinguished Visiting Professor, School of Law at the University of Virginia. He is also the director of the Harding Center for Risk Literacy, Berlin, Batten Fellow at the Darden Business School, University of Virginia, and Fellow of the Berlin-Brandenburg Academy of Sciences and the German Academy of Sciences. He won the AAAS Prize for the best article in the behavioral sciences and the Association of American Publishers Prize for the best book in the social and behavioral sciences.
---
The Leadership Lectures are presented with the generous support of Amerant Bank.

We would also like to thank our university partner, FIU Honors College for their support.