The Leadership Lectures: Erica Brown, Ph.D.
About the Lecture
Nurturing Women's Leadership: An Intimate View from the Hebrew Bible.
Erica Brown, Ph.D. is the Scholar-in-Residence for The Jewish Federation of Greater Washington, where she directs the Jewish Leadership Institute. She consults for the Jewish Agency of Israel and other Jewish non-profits organizations. Dr. Brown is a faculty member of the Wexner Foundation, a Jerusalem Fellow, Avi Chai Foundation Fellow, winner of the Ted Farber Professional Excellence Award, is the recipient of the 2009 Covenant Award for her work in education and the 2012 Bernie Reisman Award (Hornstein Jewish Professional Leadership Program, Brandeis University). Dr.Brown has degrees from Yeshiva University, University of London, Harvard University and Baltimore Hebrew University. She lectures and writes widely on subjects of Jewish interest and leadership, and writes an internet essay titled "Weekly Jewish Wisdom," which appeared on the Newsweek/Washington Post's "On Faith" website. She lives with her husband and four children in Silver Spring, Maryland.
Co-sponsored by the Program in the Study of Spirituality, Jewish Studies Initiatives and Women's Studies Program, FIU College of Arts and Sciences.
About the Speaker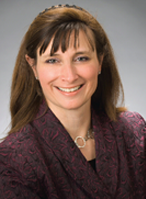 Dr. Erica Brown is the author of eight books, including Happier Endings: A Meditation on Life and Death (Simon and Schuster) and the forthcoming Leadership in the Wilderness (Ou/Koren). Her previous books include National Jewish Book Award finalist Inspired Jewish Leadership, Spiritual Boredom and Confronting Scandal (all through Jewish Lights Publishing), and is co-author of Three Weeks (OU Press/Koren Press) and Return: Daily Inspiration for the Days of Awe (OU Press/Koren). She writes regular columns for the Jewish Telegraphic Agency and New York Jewish Week, and blogs for Psychology Today. To subscribe to "Weekly Jewish Wisdom" or view many of her articles and workshop titles, see her website ericabrown.com.
When
February 18, 2014 at 2:00 p.m.
Where
MARC Pavilion, Florida International University
Modesto A. Maidique Campus
11200 SW 8 Street, Miami, Florida 33199
---
The Leadership Lectures are presented with the generous support of Mercantil Bank.

In an effort to optimize participation for our lectures, we often overbook knowing that cancellations will effect attendance. As such, we strongly urge you to register online to reserve your place, but also that you arrive early to claim your seat. While we are unlikely to turn anyone away, we are limited to the capacity of the lecture rooms and event spaces. Many thanks in advance for your understanding and cooperation.