The Leadership Lectures: David Menasche
The Leadership Lectures feature world-class, accomplished and influential leaders with expertise ranging from business and philanthropy to public service and academic research. Through the Lectures we hope to allow our community to have access to the expertise, advice and best practices of some the world's foremost leadership minds and so the lectures are free and open to the public.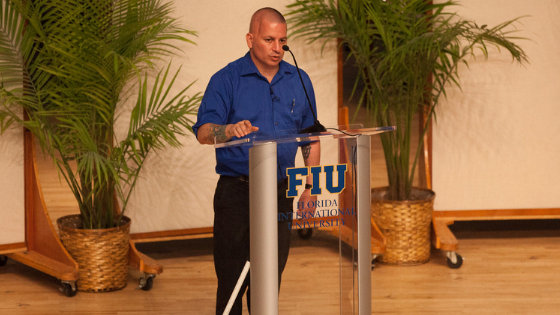 Lecture
About the lecture

A Teacher Discovers Life's Greatest Lessons

David Menasche lived for his work as a high school English teacher. His passion inspired his students, with whom he forged a unique bond, buoying them through personal struggles while sharing valuable life lessons. When a six-year battle with brain cancer stole David's vision, memory, and mobility, he was devastated when he was ultimately left unable to teach and reach his students. Undaunted by the difficult road ahead, he decided to end his treatments and make life his classroom.

David turned to Facebook with an audacious plan: a journey across America by bus, train, and red-tipped canein hopes of seeing firsthand how his kids were faring in life. Had he made a difference? Within 48 hours of posting, former students in more than 50 cities replied with offers of support and shelter. To date, David has put in over 8,000 miles, more than 30 cities, over 100 days of travel, and visited hundreds of his students. His remarkable journey of will inspired his best-selling memoir, The Priority List: A Teacher's Final Quest to Discover Life's Greatest Lessons.

With an enthusiasm and candor that brings audiences to their feet, David shares the heartwarming (and heart-wrenching) details of his fearless journey to reconnect with his former students while battling terminal brain cancer. David inspires audiences to explore the things we all want and need out of life,family, security, independence, love, adventure and forces us to stop to consider our own Priority List.

Date

Tuesday, September 23, 2014
Presenter
David Menasche

Best-selling memoir soon to be a Warner Bros. film. The title of his memoir was inspired by one of his favorite classroom lessons. The Priority List originally consisted of 26 words, including: wealth, respect, love, strength, and education, which he asked students to rank in order of personal importance. After his diagnosis, David's priority list lesson became even more relevant.

When he told his doctors that he was done with treatments, they warned him that, without aggressive measures, he wouldn't survive. But he was sick of merely surviving. It was time to really live again.

As a teacher, David was exciting, enthusiastic, award-winning, exuberant, caring beyond measure, and wholly invested in his students. From exploring the Caverns in VA, to drinking Absinthe in New York City, to finally getting a look at the Pacific Ocean, The Priority List comes full circle as he and former student's journey to the past where they can relive his teaching experience, and those moments that shaped their lives. This book truly celebrates the great teachers and lessons that have had an impact on all of our lives.

David is an Ambassador for Voices Against Brain Cancer (VABC), an organization dedicated to helping find a cure for brain cancer and brain tumors by advancing scientific research, increasing awareness within the medical community, and supporting patients, their families and caregivers afflicted by this devastating disease.

David taught at the renowned Coral Reef Senior High School in Florida for fifteen years, teaching over 3,000 students during his career. In 2012, he was awarded Teacher of the Year by his region. He grew up in Miami, Florida, and majored in journalism at Eugene Lang College and the New School for Social Research.

Most recently, Steve Carell has been attached to star as David in the film version of The Priority List (Warner Bros).
---
The Leadership Lectures are presented with the generous support of Amerant Bank.

We would also like to thank our university partner, FIU Honors College for their support.