The Leadership Lectures: Captain Barrington Irving
About the Lecture
How can we fuse the passion to explore, the skill to fly around the world, and the ability to make science, technology, engineering and math real and relevant to our students?  Better yet, how can we make STEM+, which includes history, geography, and the humanities too, relevant in the classroom?  Answering these questions led Barrington to create the Flying Classroom, an interactive learning adventure that took him to Asia, Indonesia, and Australia last fall, where he carried out 16 powerful ground, air, and sea expeditions exploring real-life applications of STEM+. Throughout the trip, students nationwide followed his adventures through their science curriculums that accessed videos and a real-time blog on www.flyingclassroom.com.
Captain Barrington Irving will share exclusive moments, videos, images, and experiences from his adventures and discuss how this innovative project brought STEM+ into schools, engaging and delighting thousands of students and educators.
About the Speaker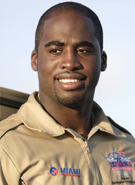 On June 27, 2007, 23-year-old Captain Barrington Irving secured his place in history as the youngest person and first black pilot to fly solo around the globe. On his 97-day journey, he flew 30,000 miles in a single-engine aircraft called Inspiration. His purpose in making the trip was to show other youth that if they he could achieve his dream, they could too.
Born in Kingston, Jamaica and brought up in inner-city Miami, Barrington saw a football scholarship as his only route to college. But at 15, he met Jamaican airline pilot, Captain Gary Robinson, whose mentoring helped motivate the young man to pursue a professional career in aviation.
In 2003 Barrington founded the nonprofit Experience Aviation and set up the Experience Aviation Learning Center that continues to offer STEM-based programs and career guidance to middle and high school students in the Miami area.
In September 2014, Barrington launched the Flying Classroom, the world's the first-ever interactive STEM+ learning adventure. Flying to 13 countries in North America, Asia, Indonesia, and Australia, he explored real-life applications of Science, Technology, Engineering, Mathematics, history, geography and humanities (STEM+) through 16 powerful ground, air, and sea expeditions. Students followed his adventures at www.flyingclassroom.com as part of their school's science curriculum.
A Magna Cum Laude graduate of Florida Memorial University, Barrington was named a National Geographic Emerging Explorer in 2012. He is the recipient of a Congressional Resolution acknowledging his pioneering work in aviation education and a Guinness World Record as the youngest person to fly solo around the world.
When
Wednesday, February 11, 2015, 9:00 a.m.
Where
Graham Center Ballrooms, Florida International University
Modesto A. Maidique Campus
11200 SW 8 Street, Miami, Florida 33199
---
The Leadership Lectures are presented with the generous support of Mercantil Bank.

In an effort to optimize participation in our lectures we strongly urge you to register online to reserve your place and arrive early to claim your seat. While we are unlikely to turn anyone away, we are limited to the capacity of the lecture rooms and event spaces. Many thanks in advance for your understanding and cooperation.