The Leadership Lectures: Abe Ng
About the Lecture
The Entrepreneurial Journey:  The Ongoing Sushi Maki Story
Entrepreneur Abe Ng will be sharing "lessons learned" from his experiences with various restaurant concepts he has founded, including the ubiquitous, award-winning Sushi Maki.  In the last 15 years, Abe and his team have grown a company that continues to thrive and survive in turbulent economic times.  Recently honored as a South Florida Business Journal "Ultimate CEO," Abe's present focus is on creating a focused and energetic company culture as he leads the concept in new directions.  As Abe candidly shares the story behind Sushi Maki, the challenges he's faced and the opportunities for the future, you can gain insight into how to maximize your chances of being start-up ready and navigating your way to find yourself with like-minded peers.  Abe will also be discussing sustainability, food trends and the latest in the hospitality industry.
About the Speaker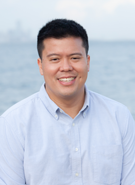 Abe Ng is a Miami native, graduated from Miami Dade Public Schools and Cornell University's Hotel School, and has completed programs at the California Sushi Academy and most recently the OPM program at Harvard Business School.  In addition to Ultimate CEO, Abe has been recognized by the Miami Herald and the South Florida Business Journal in their "20 Under 40" and "40 Under 40" awards. Sushi Maki has garnered numerous awards, including the SFBJ "Good to Great" award, the GMCVB "Minority Business of the Year" award, GMBHA "Sustainable Hospitality: Restaurant Award," and was a finalist for the SFBJ "Business of the Year."  Abe has appeared on Fox Business News, National Public Radio and NBC6.   Abe currently lives in Miami with his wife Christina and their three children aged 10, 8 and 6.
When
Wednesday, January 28, 2015, 9:00 a.m.
Where
Graham Center Ballrooms, Florida International University
Modesto A. Maidique Campus
11200 SW 8 Street, Miami, Florida 33199
---
The Leadership Lectures are presented with the generous support of Mercantil Bank.

In an effort to optimize participation in our lectures we strongly urge you to register online to reserve your place and arrive early to claim your seat. While we are unlikely to turn anyone away, we are limited to the capacity of the lecture rooms and event spaces. Many thanks in advance for your understanding and cooperation.